Le DJI Mavic Pro est un petit drone puissant qui transforme le ciel dans votre toile créative facilement et sans souci, vous aidant à faire de chaque instant un moment aérienne. Sa taille compacte cache un degré élevé de complexité qui en fait l'un des plus sophistiqués voler caméra DJI jamais. 24 haute performance cœurs de calcul, un tout nouveau système de transmission avec un 4.3mi (7Km) gamme, capteurs de 4vision, et une caméra 4K stabilisée par un cardan mécanique 3-aix, sont à votre commande avec juste une poussée de votre pouce ou un robinet de votre doigt.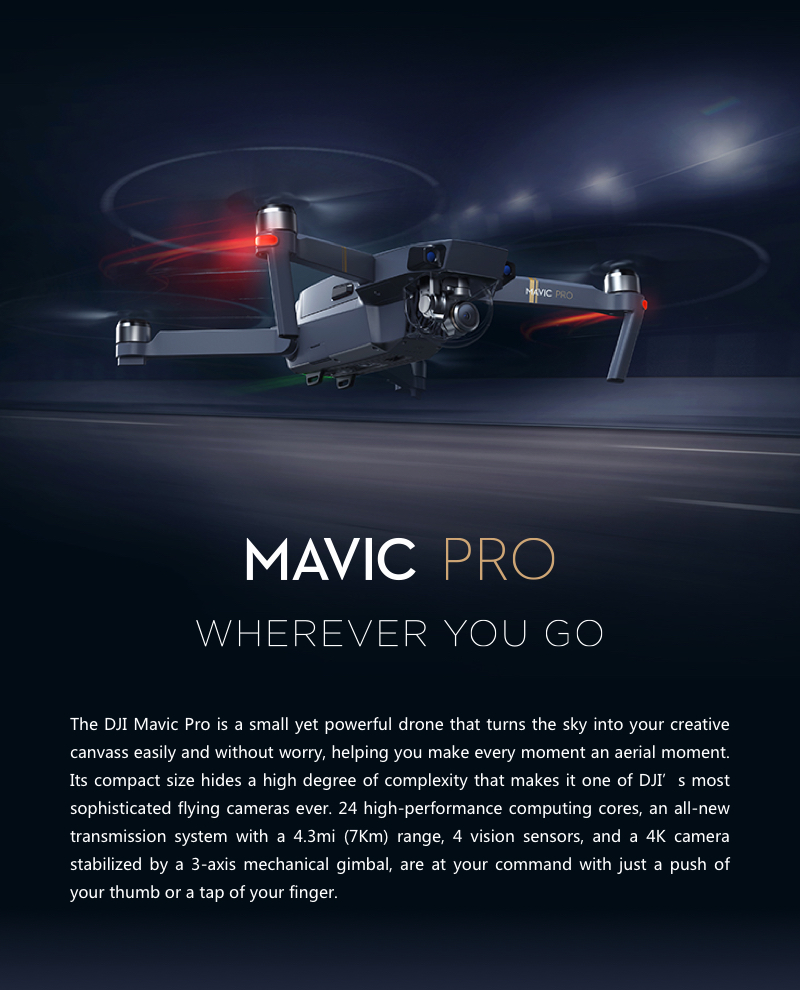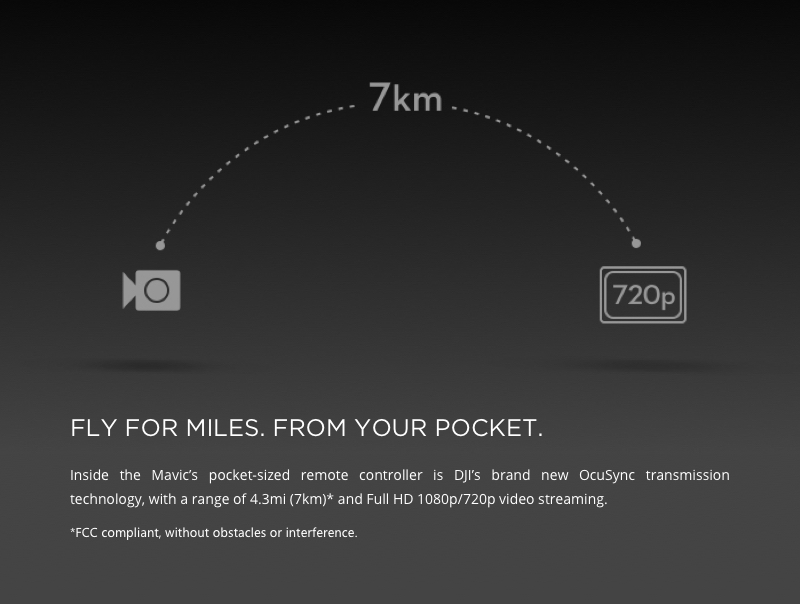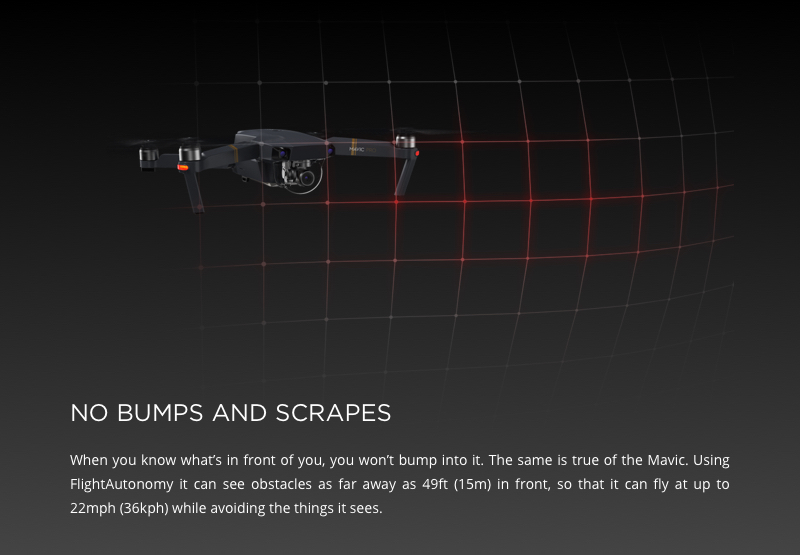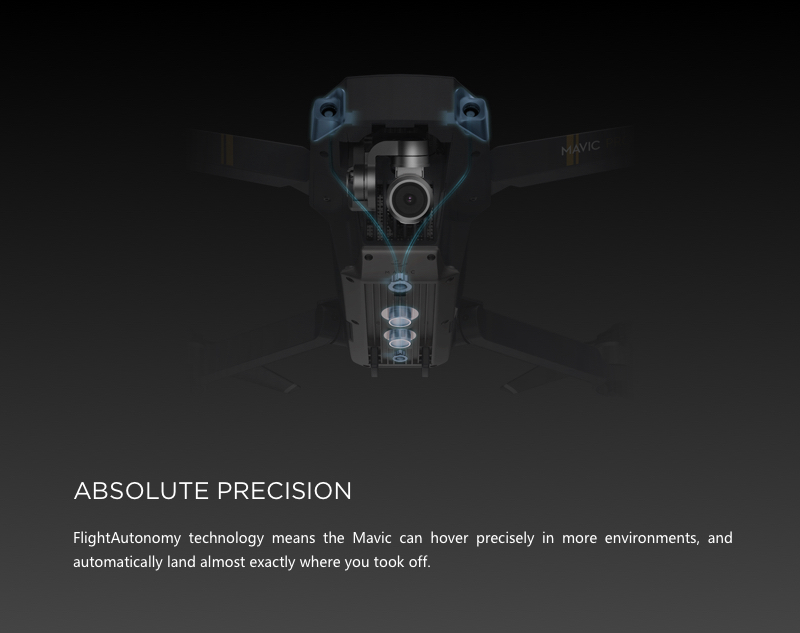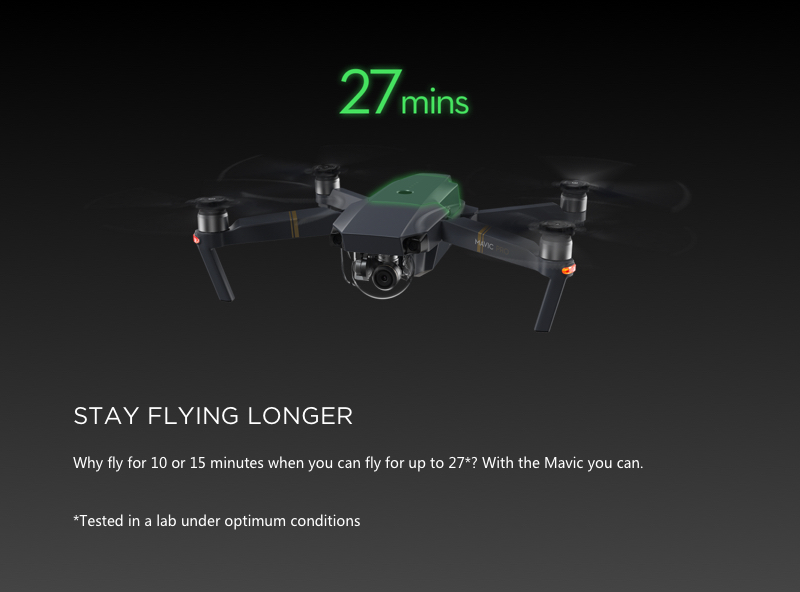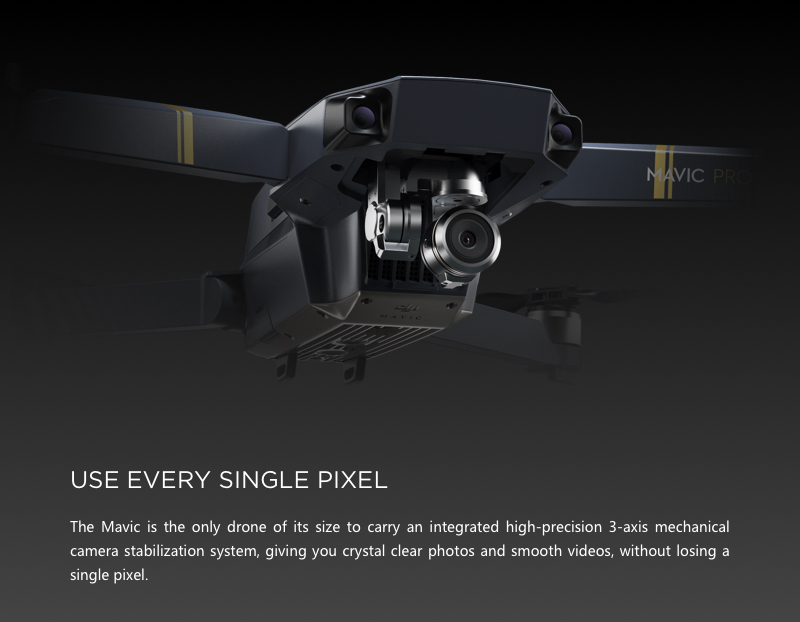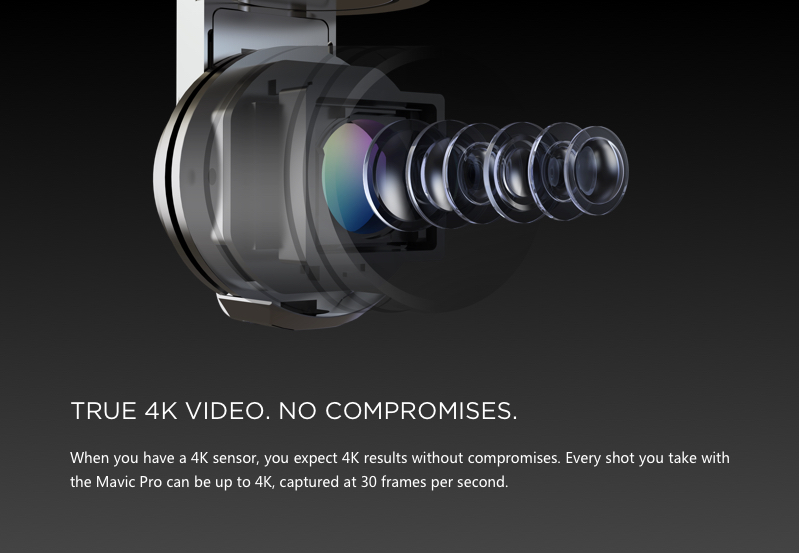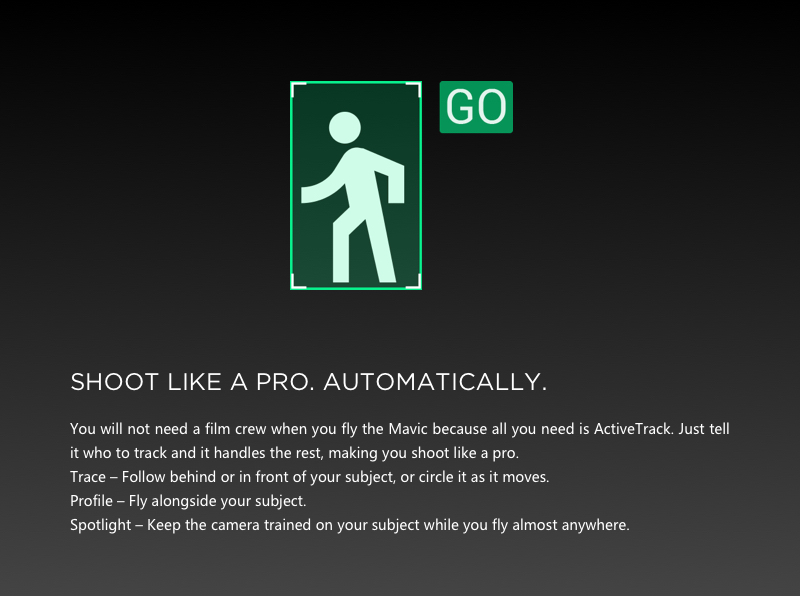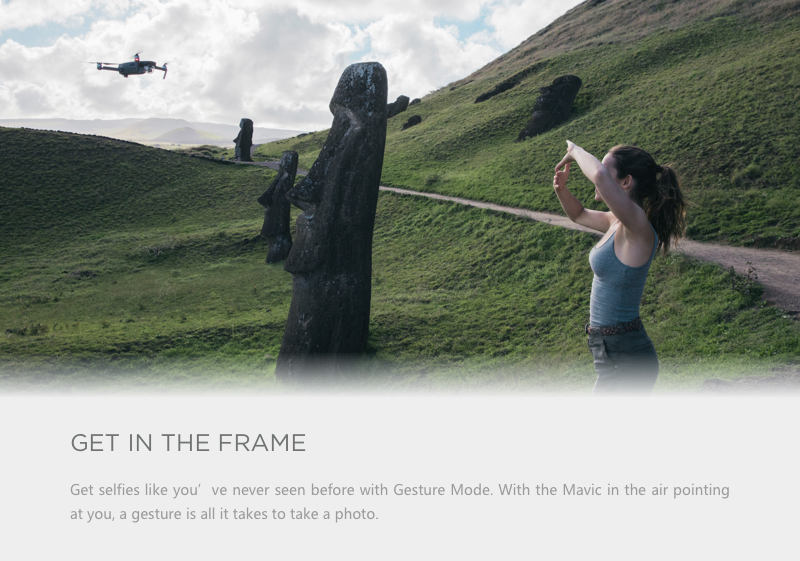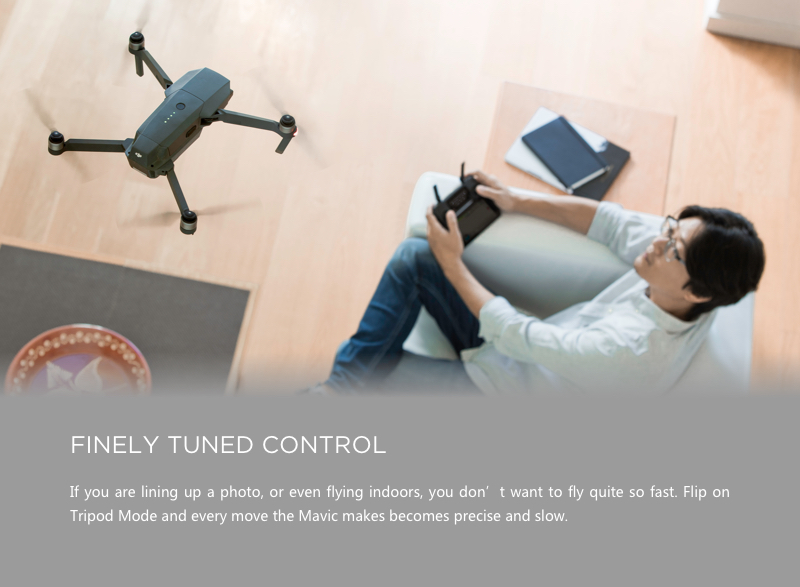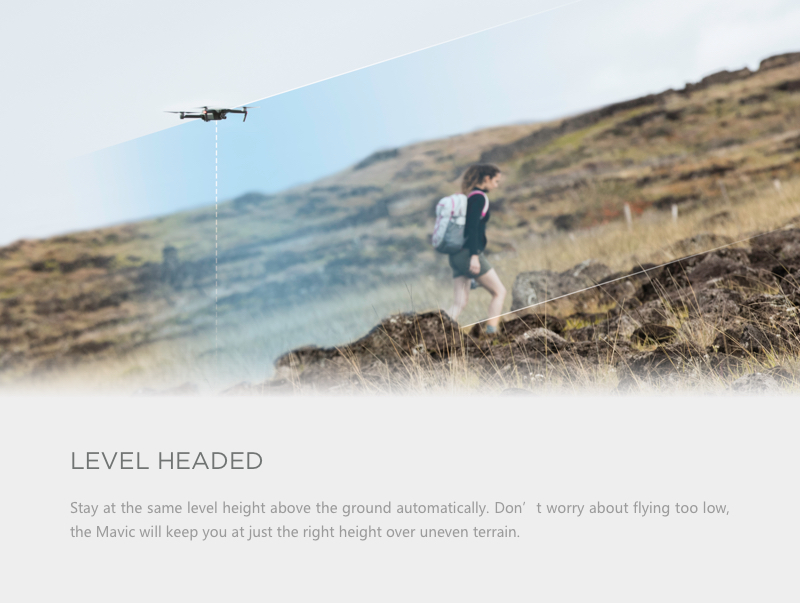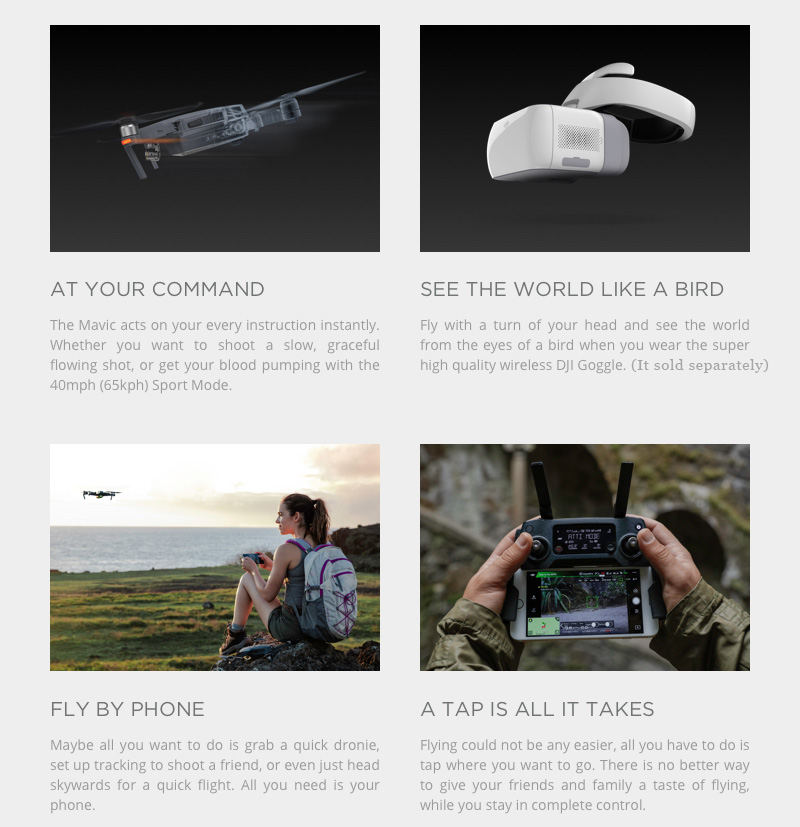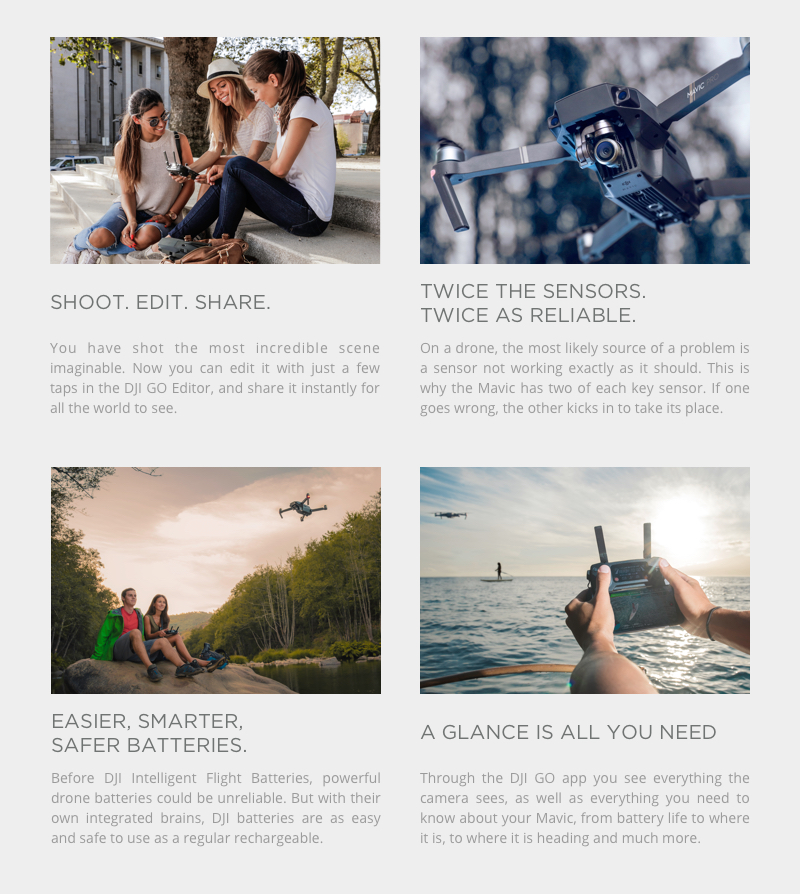 Caractéristiques:
Le DJI Mavic Pro se replie aussi petit qu'une bouteille d'eau, ce qui rend assez petit pour apporter avec vous partout
système de transmission New OcuSync offre jusqu'à 4,3 miles (7km) de la gamme de transmission
la technologie FlightAutonomy signifie l'Mavic peut planer précisément dans plus enviroments, et automatiquement land presque exactement où vous a décollé
Mouche jusqu'à 40 mph (64 kmh), ou aussi longtemps que 27mins
Vrai 4K, entièrement stabilisée assure des images en douceur
ActiveTrack, TapFly et d'autres fonctions intelligentes font professionnel à la recherche vidéo sans effort
Obstacle Avoidance combinée avec capteur de redondance augmente la sécurité des vols et la fiabilité
le positionnement de Vision jumelé avec GPS et GLONASS assure un positionnement précis à l'intérieur et à l'extérieur
Haute précision 3 axes système de stabilisation mécanique de l'appareil photo
Obtenez selfies comme vous ne l'avez jamais vu DeFore avec le mode geste
Caractéristiques:
Quadcopter:
Marque: DJI
Modèle: Mavic Pro
Taille pliée: 198 * 83 * 83mm
Poids (y compris la batterie et les hélices):
1.62lb (734g) (exclure la couverture Cardan)
1.64lb (743g) (inclure la couverture Cardan)
Taille de diagonale: 335mm
Max Ascent Vitesse: 6.4ft / s (5m / s) en mode sport
Max Descent Vitesse: 9.8ft / s (3m / s)
Vitesse maximum: 40 mph (65kph) en mode sport sans vent
Plafond service Max-dessus du niveau de la mer: 16404feet (5000m)
Max Temps de vol: 27mins (0 vent à un uniforme 15,5 mph (25kph))
Max Survoler Durée: 24mins (0 vent)
Temps global Vol: 21mins (en vol normal, 15% niveau de batterie restant)
Max Vol Distance: 8MI (13km, 0 vent)
Température de fonctionnement: 32 ° à 104 ° F (0 ° à 40 ° C)
Mode GPS: GPS / GLONASS
Télécommande:
Fréquence: 2.4GHz à 2.483GHz
Max Transmission Distance:
FCC Conforme 4.3mi / 7 km
CE 2.5MI conforme / 4km (Dégagée, sans interférence)
Température de fonctionnement: 32 ° à 104 ° F / 0 ° à 40 ° C
Batterie: 2970mAh
Puissance de l'émetteur (PIRE):
FCC: ≤26 dBm
CE: ≤20 dBm
Tension de fonctionnement: 950mA @ 3.7V
Pris en charge Mobile Device Taille: Epaisseur 6.5-8.5mm supporté, longueur max 160mm
Pris en charge USB Types de port: foudre, Micro USB (type B), USB (Type-C) ™
Caméra:
Capteur: 1 / 2.3 '' CMOS
Pixels effectifs: 12,35 (total pixels: 12.71M)
Objectif:
FOV: 78,8 ° 28 mm (format équivalent 35 mm) f / 2.2
Distorsion: <1,5% mise au point de 0,5 m à ∞
Plage ISO: 100-3200 (vidéo), 100-1600 (photo)
Vitesse d'obturation: 8s -1 / 8000s
Image Max Taille: 4000 * 3000
PHOTOGRAPHIE Modes:
Coup unique
tir Burst: 3/5/7 cadres
Bracketing d'exposition auto (AEB): 3/5 cadres entre crochets à 0,7
EV Bias
Interval
Modes d'enregistrement vidéo:
C4K: 4096 * 2160 24p
4K: 3840 * 2160 24/25 / 30p
2.7K: 2704 * 1520 24/25 / 30p
FHD: 1920 * 1080 24/25/30/48/50/60 / 96p
HD: 1280 * 720 24/25/30/48/50/60 / 120p
Max Bitrate Vidéo: 60Mbps
Formats de fichiers supportés: FAT32 (≤ 32 Go); exFAT (> 32GB)
Photo: JPEG, DNG
Vidéo: MP4, MOV (MPEG-4 AVC / H.264)
Pris en charge Types de cartes SD:
Micro SD ™
Capacité maximale: 64 Go. Classe 10 ou UHS-1 note nécessaire
Température de fonctionnement: 32 ° à 104 ° F (0 ° à 40 ° C)
Gimbal:
Range Contrôlable:
Pitch: -90 ° à + 30 °
Rouleau: 0 ° ou 90 ° (horizontalement et verticalement)
Stabilisation: 3 axes (tangage, roulis, lacet)
Batterie de vol:
Capacité: 3830mAh
Voltage: 11.4V
Type de batterie: batterie LiPo 3S
Energie: 43.6Wh
Poids net: 240g
Température de fonctionnement: 41 ° à 104 ° F (5 ° à 40 ° C)
Chargeur:
Tension: 13.05 V
Puissance nominale: 50 W
Fiche: États-Unis, au Royaume-Uni et de l'UE en option
Forward Vision System:
Obstacle Gamme sensorielle:
Précision Plage de mesure: 2 pi (0,7 m) à 49 pieds (15 m)
Gamme Détectables: 49 pi (15 m) à 98 pieds (30 m)
Environnement de fonctionnement: Surface avec motif clair et un éclairage adéquat (lux> 15)
Downward Vision System:
Velocity Range: ≤22.4mph (36kph) à 6.6ft (2m) au dessus du sol
Plage d'altitude: 1 - 43feet (0,3 - 13m)
Plage de fonctionnement: 1 - 43feet (0,3 - 13m)
Environnement de fonctionnement: Surface avec motif clair et un éclairage adéquat (lux> 15)
NOTE: Le manuel est chinois, si vous voulez Anglais Manuel, s'il vous plaît télécharger sur le site officiel DJI ou contactez-nous.
Trousse d'information:
Taille de l'emballage: 24,5 * 24,5 * 11cm / 9.6 * 9.6 * 4.3in
Poids du paquet: 1861g / 4.1lb
paquet de boîte cadeau Marque
Liste des paquets:
1 * DJI Mavic Pro RC Quadcopter
1 * télécommande
1 * 11.4V 3830mAh Batterie intelligente Vol
1 * Gimbal Cover
3 * Paire de Propeller
1 * Gimbal Clamp
1 * Chargeur
1 * Câble d'alimentation
1 * 16 Go Micro SD Card
1 * Câble micro USB
3 * RC câble (connecteur de foudre)
4 * RC Câble Curseur
1 Manuel *
1.Does RcMoment.com check the products before shipping them to me?
Yes., of course.
We have a professional Quality Control team. They will check carefully for each item we received from suppliers and manufacturers to avoid sending defective goods to our customers.
If a item is found defective in our QC test, it will be returned to the supplier / factory. Please don't worry about receiving a defective item because we are committed to being a trustworthy and reliable seller on international on-line shopping market.

2.Are Products Guaranteed / Is There A Warranty?
Yes, everything you buy from RcMoment.com has a guarantee of quality and will exactly match the description on the website.
Factories that supply RcMoment.com are strictly evaluated by us, and we provide you an even better reassurance of consistent high quality thanks to our in-house QC team. We double-check the contents of all orders carefully before dispatch to our customers. You can be confident about ordering from RcMoment.com just as much as any western retailer.

3. How long dose it take to have my orders shipped after the payment is made?
1. Processing time 1-2 business days normally: During this period, we do strict quality-control tests and get the items carefully packed.
2. Sometimes the item in your order is really a hot seller and it may be just sold out at that time. It will take us 1-2 more days to get it available in stock again. In this case, The processing time will be 3 business days.
If you don't receive any shipping confirming over three days after the payment is made, please kindly contact our customer service . They will check for you.

4. What should I do if my items arrived damaged?
Rarely, rough handling by the courier can lead to physical damage to your goods, e.g. broken screen.
If this has happened, please follow these steps:
If possible, raise a complaint directly with the delivery representative of the courier company before you sign for the goods. They will advise you on the complaint procedure.
If you already signed for the packet, take photos showing the damage and contact the local office of the courier/delivery company to complain. They will have a complaining procedure which will enable you to get compensation.
Next, contact RcMoment.com immediately with your order number and a full description / pictures of the broken item issue. We will contact the courier company from our end.
Once the courier company confirms that the case is valid, they will compensate RcMoment.com, and we will pass on this compensation to you. The compensation varies from case to case and is different for each delivery company. In some cases you will need to pay to post the broken item back to RcMoment.com in order for us to send out a new piece.

5. What should I do if my products go broken after a period of use?
If you encounter quality issues within the warranty period, you can ask for us. Every product has a specific warranty period. If it is not stated in the product listing, please contact our consumer service team.

In this case, please kindly provide us with proof as below:
The photos of original RcMoment.com package with front and back sides
The photos or video of the defective item(s)
The photos, video or screenshot showing the malfunction of the defective item(s)

We will usually offer you a refund or send a replacement as soon as the problem is confirmed.
Sometimes you may need to ship the defective item back to us for free repair service or a new replacement. Customer should cover the return shipping fee, and RcMoment.com is responsible for the shipping costs of arranging reshipment by air mail.