Il DJI Mavic Pro è un drone piccolo ma potente che trasforma il cielo nella vostra tela creativa in modo semplice e senza preoccupazione, aiutandoti a rendere ogni momento un momento aerea. Le sue dimensioni compatte nasconde un alto grado di complessità che lo rende uno dei più sofisticati telecamera volante di DJI mai. 24 core di calcolo ad alte prestazioni, un sistema di trasmissione completamente nuovo con una 4.3mi (7Km) gamma, i sensori 4vision, e una fotocamera 4K stabilizzato da un giunto cardanico meccanico 3-Aix, sono al tuo comando con un semplice pressione del pollice o un tocco delle dita.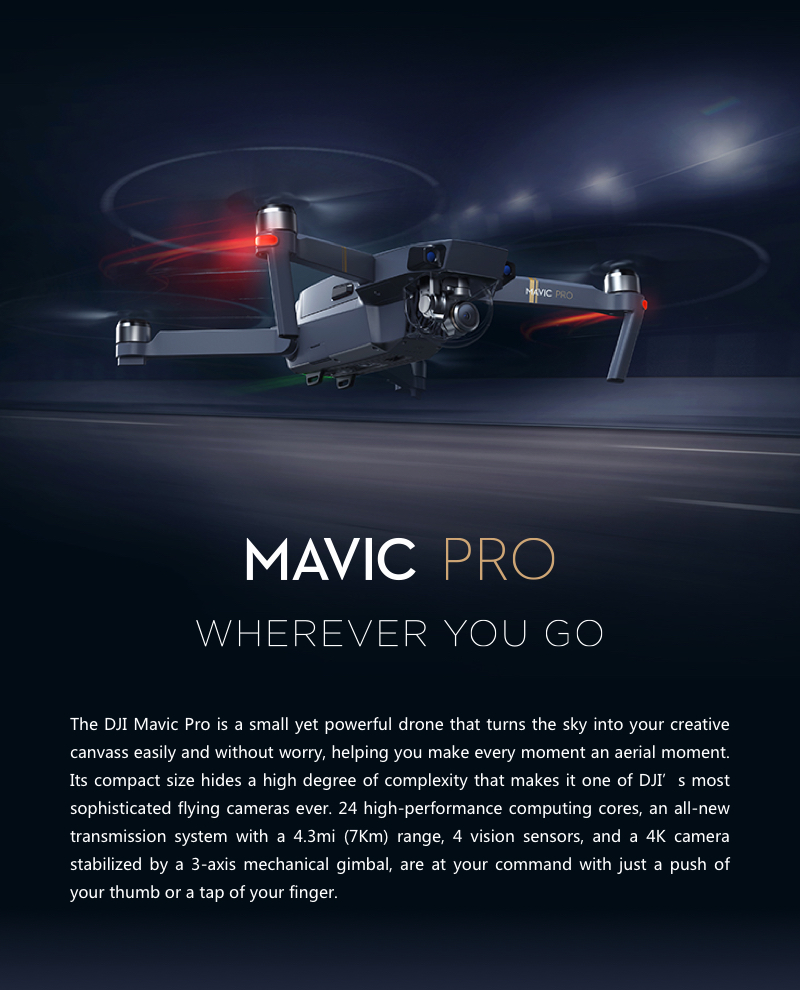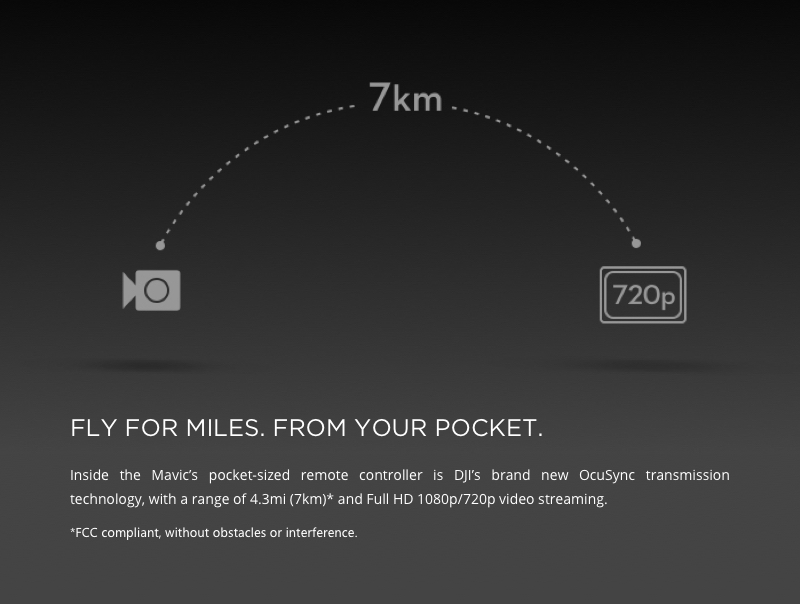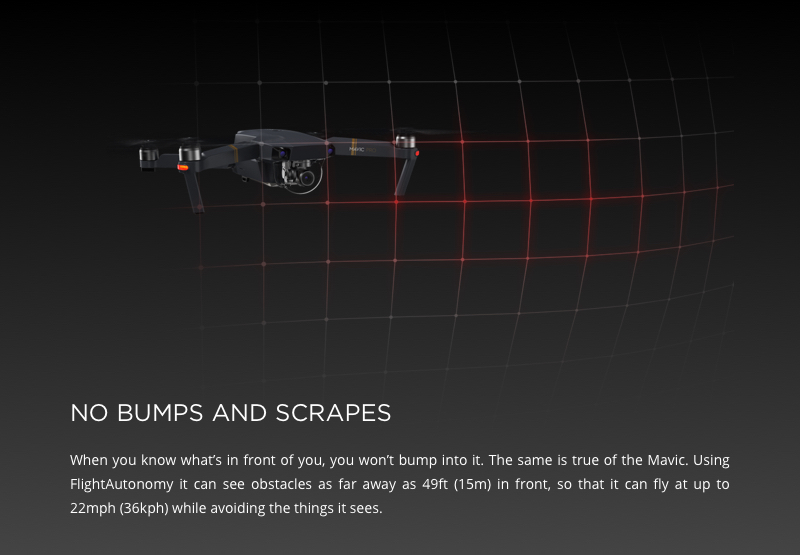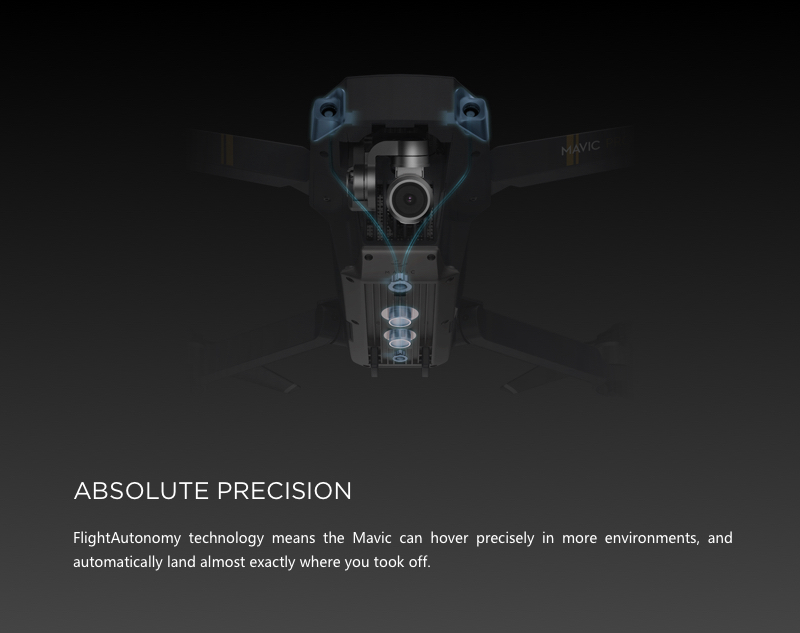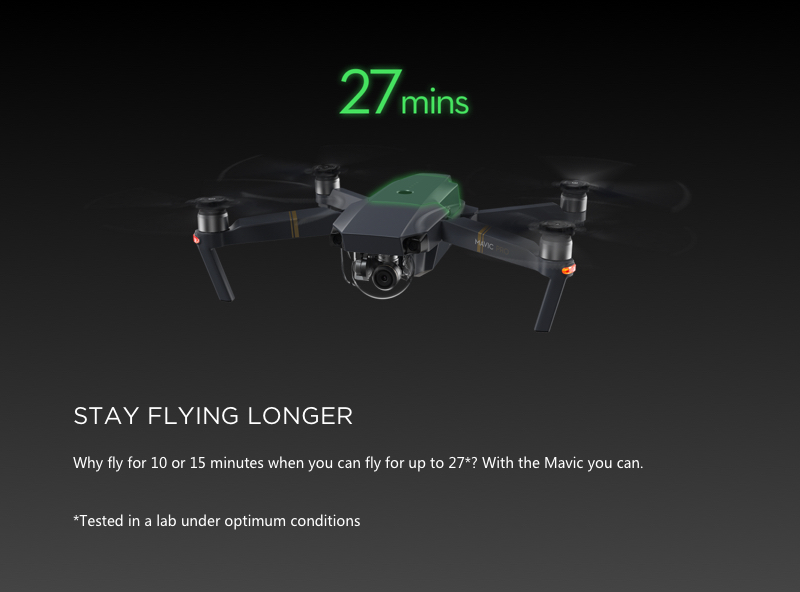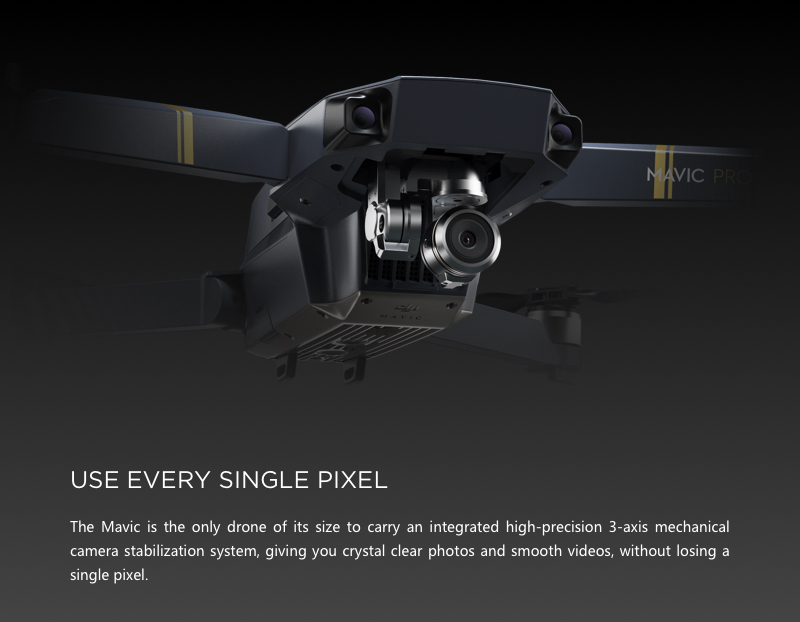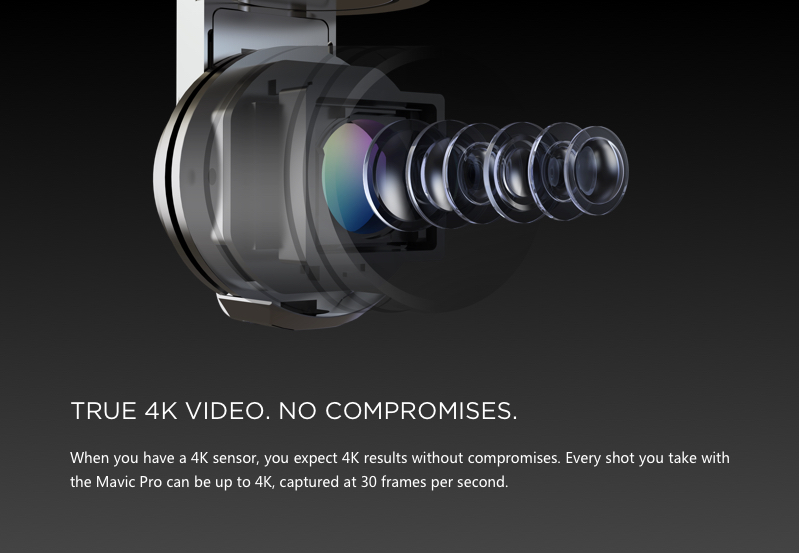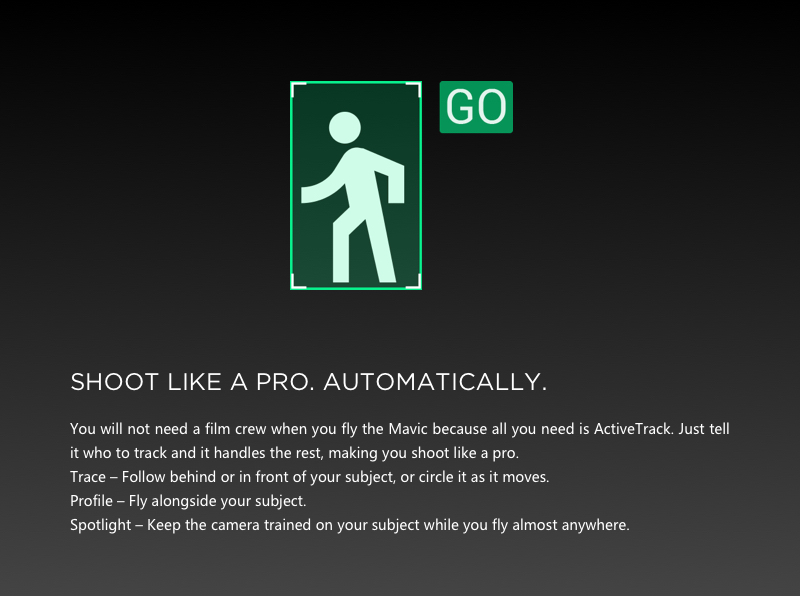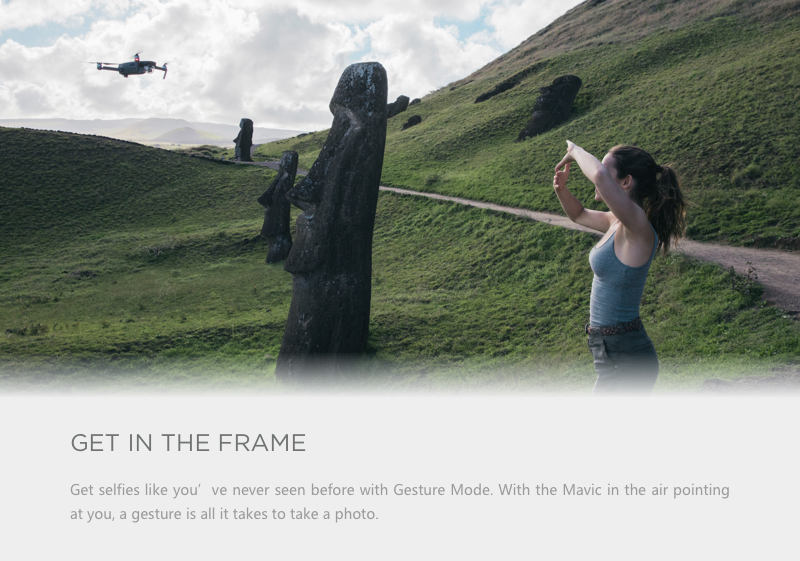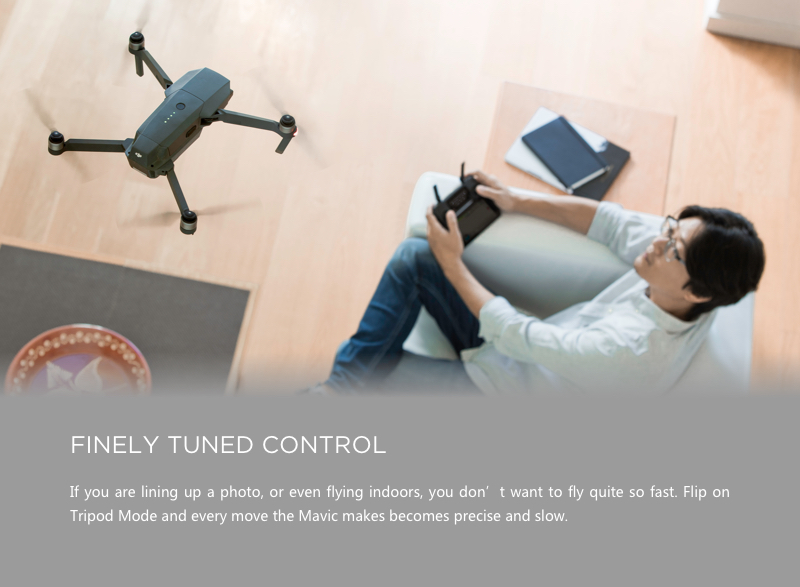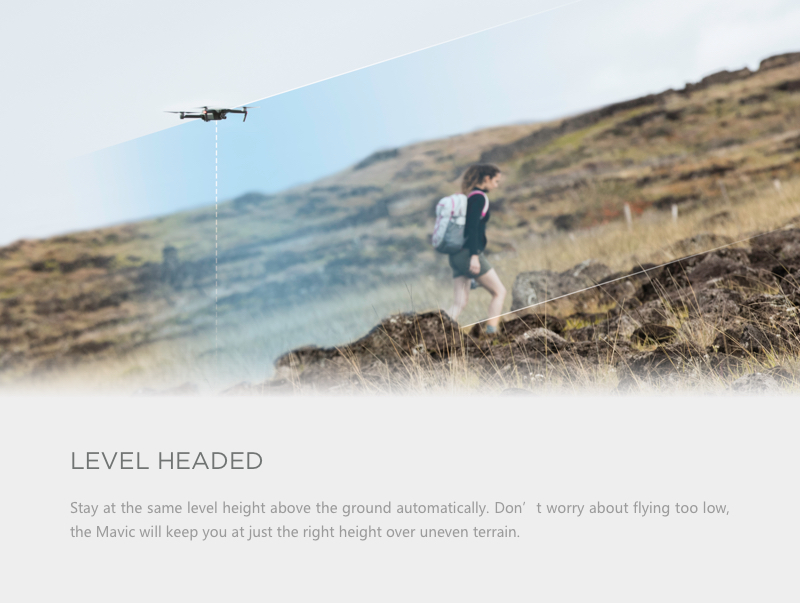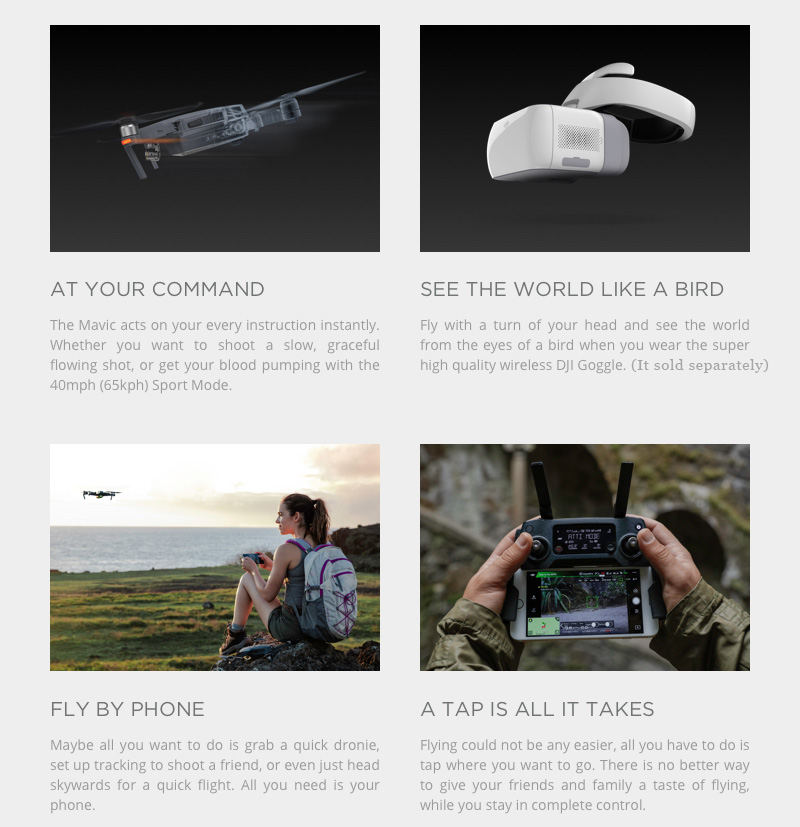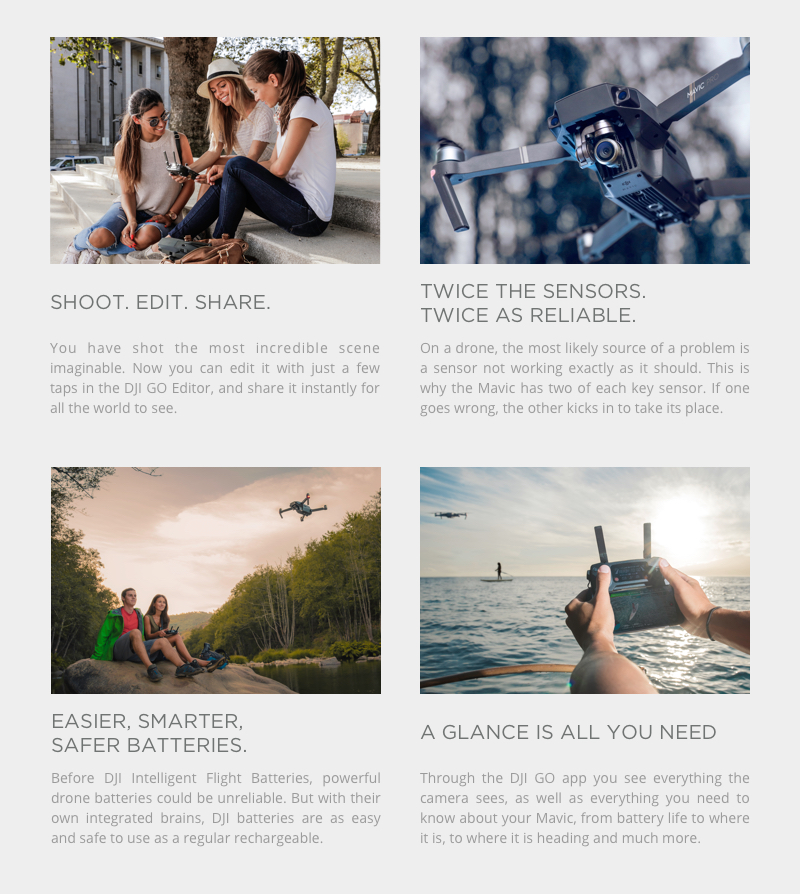 Caratteristiche:
Il DJI Mavic Pro ripiega piccolo come una bottiglia di acqua, il che rende abbastanza piccolo da portare con voi ovunque
Nuovo sistema di trasmissione OcuSync offre fino a 4,3 miglia (7 km) di raggio di trasmissione
La tecnologia FlightAutonomy significa Mavic può librarsi precisamente in più ambienti, e automaticamente terra quasi esattamente dove si è decollato
Vola fino a 40 mph (64 kmh), o per tutto il tempo 27mins
È vero 4K, completamente stabilizzata assicura filmati liscia
ActiveTrack, TapFly e altre caratteristiche intelligenti rendono professionista alla ricerca di video senza sforzo
Obstacle Avoidance combinato con ridondanza sensore aumenta la sicurezza e l'affidabilità di volo
posizionamento di visione abbinato con GPS e GLONASS garantisce un posizionamento preciso al coperto e all'aperto
Di alta precisione 3 assi sistema di stabilizzazione della fotocamera meccanico
Ottenere selfie come non l'avete mai visto Defore con modalità gesto
Specifiche:
Quadcopter:
Marca: DJI
Modello: Mavic Pro
Formato piegato: 198 * 83 * 83 millimetri
Peso (batteria compresa e eliche):
1.62lb (734g) (escludere la copertura del giunto cardanico)
1.64lb (743g) (includere la copertura del giunto cardanico)
Diagonale: 335 millimetri
Max Salita Velocità: 6.4ft / s (5 m / s) in modalità sport
Max Discesa Velocità: 9.8ft / s (3m / s)
Velocità massima: 40 mph (65kph) in modalità sport senza vento
Max Service soffitto sul livello del mare: 16404feet (5000m)
Max Tempo di volo: 27mins (0 a Fiato in 15,5 mph consistente (25kph))
Max Librarsi Tempo: 24mins (0 vento)
Nel complesso Tempo di volo: 21mins (in volo normale, il 15% rimanente del livello della batteria)
Max Volo Distanza: 8Mi (13km, 0 vento)
Temperatura di esercizio: 32 ° a 104 ° F (da 0 ° a 40 ° C)
Modalità GPS: GPS / GLONASS
Telecomando:
Frequenza di funzionamento: 2,4 GHz a 2.483GHz
Max Distanza di trasmissione:
FCC compliant 4.3mi / 7 km
CE 2.5mi compatibile / 4 km (aperta, priva di interferenze)
Temperatura di esercizio: da 32 ° a 104 ° F / 0 ° a 40 ° C
Batteria: 2970mAh
Potenza del trasmettitore (EIRP):
FCC: ≤26 dBm
CE: ≤20 dBm
Tensione di funzionamento: 950mA @ 3.7V
Supportato Mobile Device: Thickness 6.5-8.5mm supportato, lunghezza massima 160 millimetri
Tipi supportati Porta USB: fulmini, Micro USB (tipo B), USB (tipo C) ™
Camera:
Sensore: 1 / 2.3 '' CMOS
Pixel effettivi: 12.35M (pixel totali: 12.71M)
Obiettivo:
FOV: 78.8 ° 28 mm (formato equivalente a 35 mm) f / 2.2
Distorsione: <1,5% messa a fuoco da 0,5 ma ∞
Gamma ISO: 100-3200 (video), 100-1600 (foto)
Velocità otturatore: 8s -1 / 8000s
Max immagine Dimensione: 4000 * 3000
Ancora modalità fotografiche:
Colpo singolo
scatto a raffica: 3/5/7 telai
Bracketing automatico dell'esposizione (AEB): 3/5 fotogrammi tra parentesi a 0.7
EV Bias
Intervallo
Video modalità di registrazione:
C4K: 4096 * 2160 24p
4K: 3840 * 2160 24/25 / 30p
2.7K: 2704 * 1520 24/25 / 30p
FHD: 1920 * 1080 24/25/30/48/50/60 / 96p
HD: 1280 * 720 24/25/30/48/50/60 / 120p
Max Video bitrate: 60Mbps
Formati di file supportati: FAT32 (≤ 32 GB); exFAT (> 32 GB)
Foto: JPEG, DNG
Video: MP4, MOV (MPEG-4 AVC / H.264)
Tipi di schede SD supportati:
Micro SD ™
Capacità massima: 64 GB. Classe 10 o UHS-1 voto richiesto
Temperatura di esercizio: 32 ° a 104 ° F (da 0 ° a 40 ° C)
Gimbal:
Portata di controllo:
Pitch: -90 ° a + 30 °
Roll: 0 ° o 90 ° (orizzontale e verticale)
Stabilizzazione: a 3 assi (beccheggio, rollio, imbardata)
Batteria di volo:
Capacità: 3830mAh
Tensione: 11.4V
Tipo di batteria: 3S LiPo
Energia: 43.6Wh
Peso netto: 240g
Temperatura di esercizio: 41 ° a 104 ° F (5 ° a 40 ° C)
Caricabatterie:
Tensione: 13.05 V
Potenza nominale: 50 W
Spina: Stati Uniti, Regno Unito e Unione europea opzionale
Forward Vision System:
Ostacolo Gamma sensoriale:
Precisione Gamma di misura: 2 ft (0,7 m) a 49 ft (15 m)
Gamma rilevabile: 49 ft (15 m) a 98 ft (30 m)
Ambiente operativo: Surface con il modello chiaro e illuminazione adeguata (lux> 15)
Verso il basso del sistema di visione:
Velocity Range: ≤22.4mph (36kph) a 6.6ft (2m) fuori terra
Di altitudine: 1 - 43feet (0,3 - 13m)
Raggio di azione: 1 - 43feet (0,3 - 13m)
Ambiente operativo: Surface con il modello chiaro e illuminazione adeguata (lux> 15)
NOTA: Il manuale è cinese, se si vuole manuale inglese, si prega di scaricare sul sito ufficiale DJI o contattaci.
Informazioni sul pacchetto:
Formato del pacchetto: 24.5 * 24.5 * 11cm / 9.6 * 9.6 * 4.3in
Peso del pacchetto: 1861g / 4.1lb
pacchetto del contenitore di regalo di marca
Lista del pacchetto:
1 * DJI Mavic Pro RC Quadcopter
1 * Regolatore a distanza
1 * 11.4V 3830mAh intelligente batteria di volo
1 * copertura del giunto cardanico
3 * Coppia di Elica
1 * del giunto cardanico morsetto
1 * Caricatore
1 * Cavo elettrico
1 * SD Card da 16 GB Micro
1 * cavo micro USB
3 * RC via cavo (connettore fulmini)
4 * RC Cavo Slider
1 manuale *
1.Does RcMoment.com check the products before shipping them to me?
Yes., of course.
We have a professional Quality Control team. They will check carefully for each item we received from suppliers and manufacturers to avoid sending defective goods to our customers.
If a item is found defective in our QC test, it will be returned to the supplier / factory. Please don't worry about receiving a defective item because we are committed to being a trustworthy and reliable seller on international on-line shopping market.

2.Are Products Guaranteed / Is There A Warranty?
Yes, everything you buy from RcMoment.com has a guarantee of quality and will exactly match the description on the website.
Factories that supply RcMoment.com are strictly evaluated by us, and we provide you an even better reassurance of consistent high quality thanks to our in-house QC team. We double-check the contents of all orders carefully before dispatch to our customers. You can be confident about ordering from RcMoment.com just as much as any western retailer.

3. How long dose it take to have my orders shipped after the payment is made?
1. Processing time 1-2 business days normally: During this period, we do strict quality-control tests and get the items carefully packed.
2. Sometimes the item in your order is really a hot seller and it may be just sold out at that time. It will take us 1-2 more days to get it available in stock again. In this case, The processing time will be 3 business days.
If you don't receive any shipping confirming over three days after the payment is made, please kindly contact our customer service . They will check for you.

4. What should I do if my items arrived damaged?
Rarely, rough handling by the courier can lead to physical damage to your goods, e.g. broken screen.
If this has happened, please follow these steps:
If possible, raise a complaint directly with the delivery representative of the courier company before you sign for the goods. They will advise you on the complaint procedure.
If you already signed for the packet, take photos showing the damage and contact the local office of the courier/delivery company to complain. They will have a complaining procedure which will enable you to get compensation.
Next, contact RcMoment.com immediately with your order number and a full description / pictures of the broken item issue. We will contact the courier company from our end.
Once the courier company confirms that the case is valid, they will compensate RcMoment.com, and we will pass on this compensation to you. The compensation varies from case to case and is different for each delivery company. In some cases you will need to pay to post the broken item back to RcMoment.com in order for us to send out a new piece.

5. What should I do if my products go broken after a period of use?
If you encounter quality issues within the warranty period, you can ask for us. Every product has a specific warranty period. If it is not stated in the product listing, please contact our consumer service team.

In this case, please kindly provide us with proof as below:
The photos of original RcMoment.com package with front and back sides
The photos or video of the defective item(s)
The photos, video or screenshot showing the malfunction of the defective item(s)

We will usually offer you a refund or send a replacement as soon as the problem is confirmed.
Sometimes you may need to ship the defective item back to us for free repair service or a new replacement. Customer should cover the return shipping fee, and RcMoment.com is responsible for the shipping costs of arranging reshipment by air mail.