The new Skyzone SKY02S V+ 5.8G 48CH 3D FPV Goggles are an upgrade of previous Skyzone 3D Goggles. It remains all the features of previous versions, including 3D/2D mode, built-in DVR with playback, head tracking, built-in front camera etc, also some new features highlight in HDMI-IN, channel auto searching, new eyeshade with headband for cozier wearing. 5.8GHz receiving modules, two antenna ports and two independently-working display modules, bringing you 3D FPV flight experience. The two lens of the 3D camera work in the parallel manner so that 3D effect can be enhanced for close shot and reduced for long shot, bringing people an overall vivid visual experience.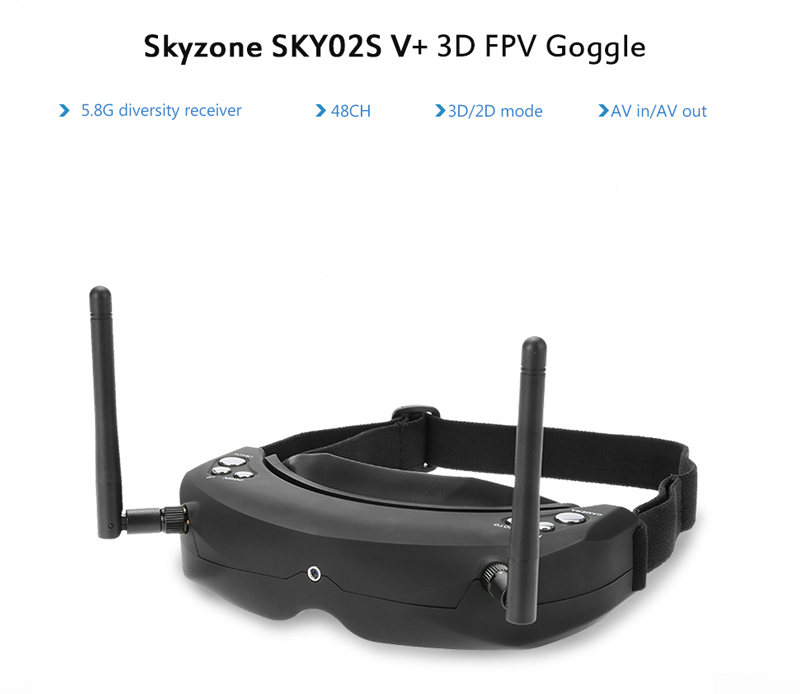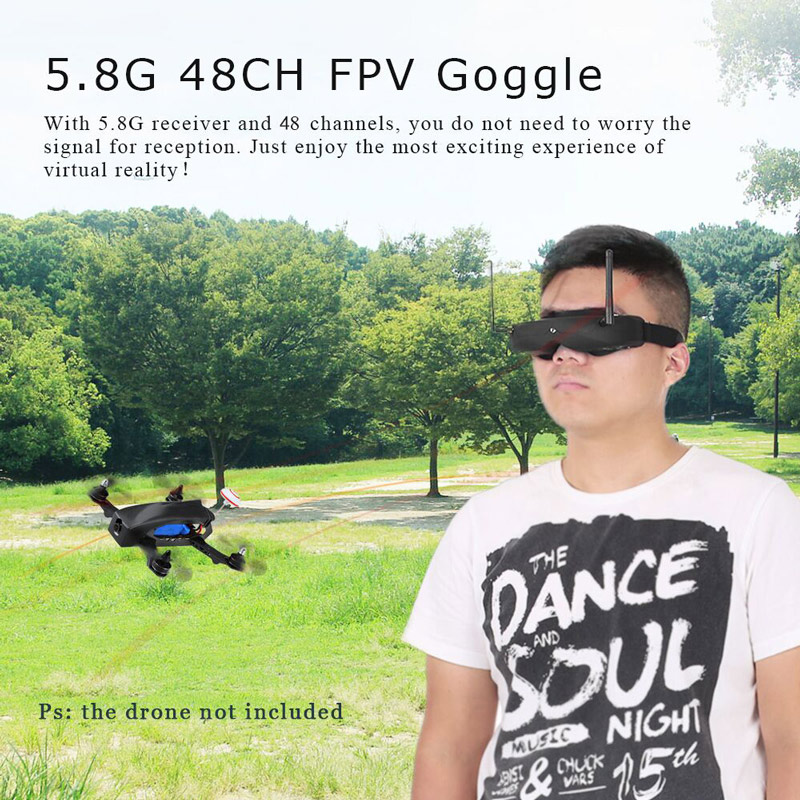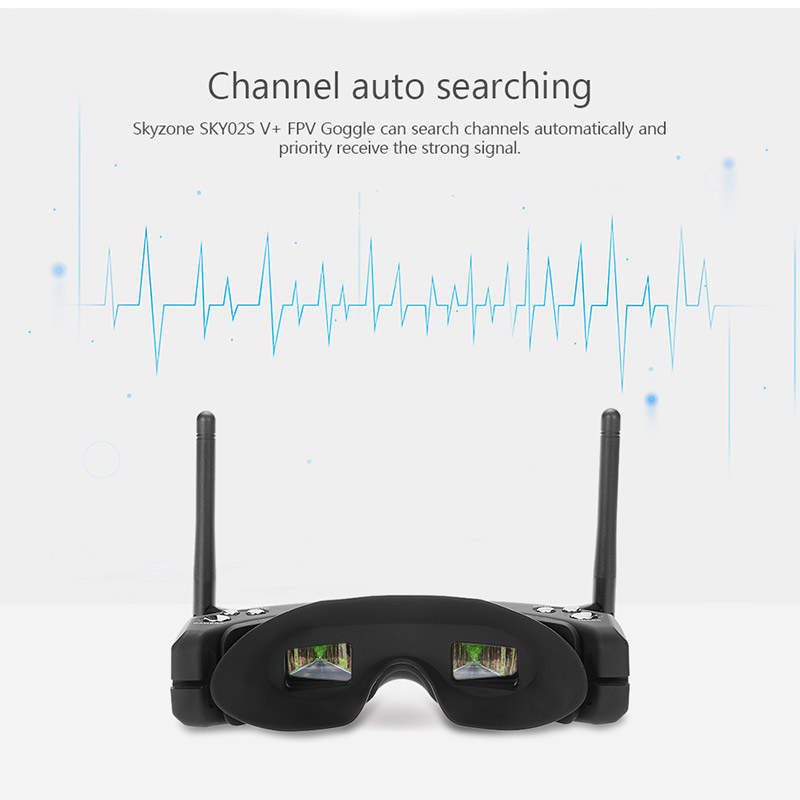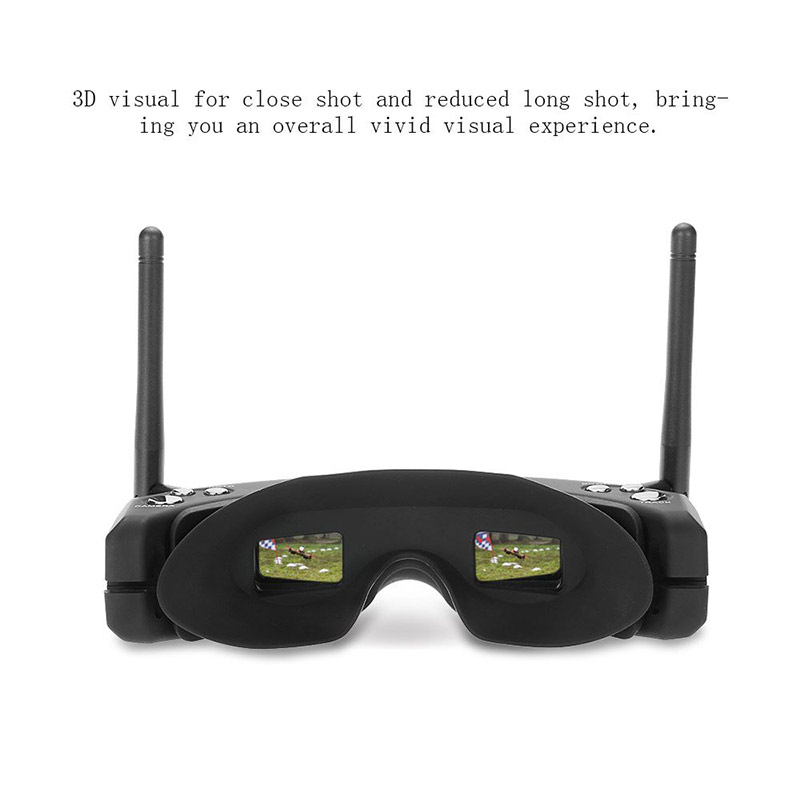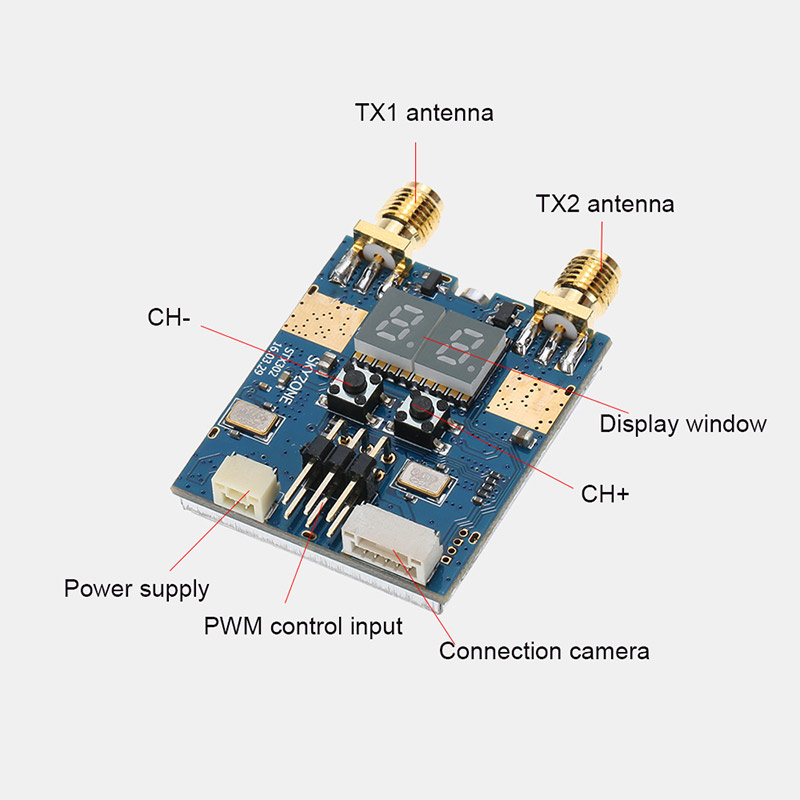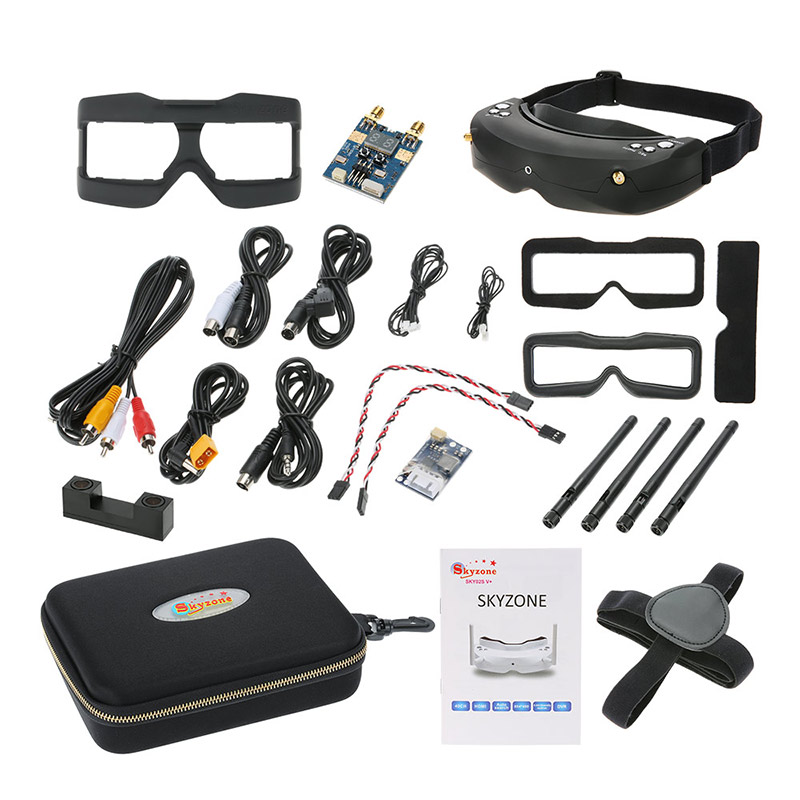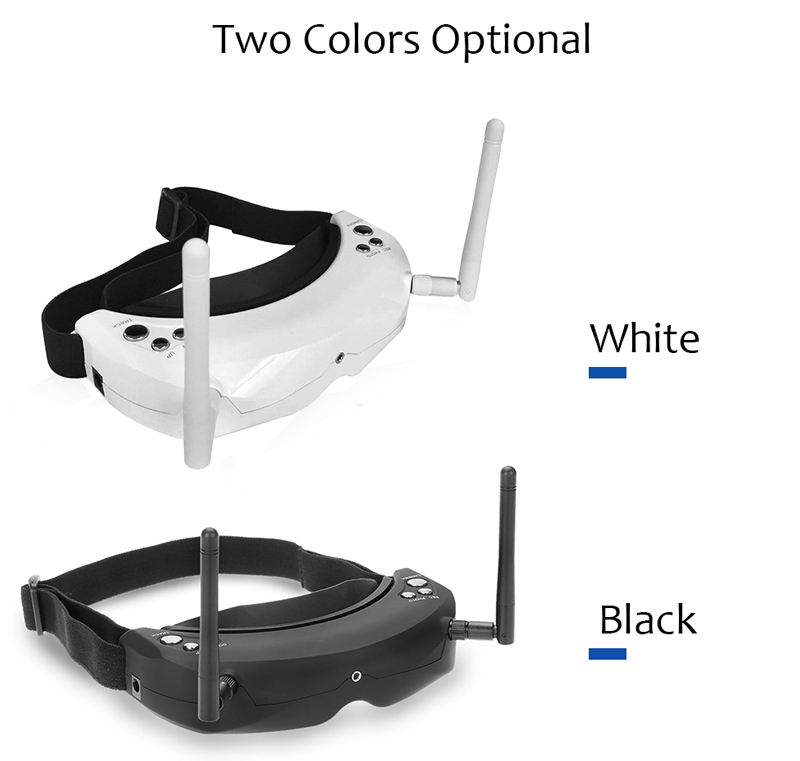 Features:
With 2D/3D mode(SCAM302 3D camera and STX202 two-way transmitters required) and HDMI in.
Channel auto searching.
Dedicated eyeshade with headband for more comfortable wearing.
Built-in DVR with playback.
Built-in 48CH 5.8G diversity receiver with raceband, compatible with most FPV 5.8G transmitters on the market(Fatshark, DJI, Walkera, Boscam etc).
Built-in self-calibrating head tracking(gyro, inertial and compass).
Built in dual 854*480(WVGA) monitors, 1,229,760 color sub-pixels.
Built-in external camera for surrounding view(640X480,VGA).
AV in/AV out/earphone socket(with volume control).
Adjustable interpupillary and diopter for your eyes.
Adjustable brightness and contrast.
Complete plug and play kit.
Specifications(SCAM302):
FOV: 120 degrees (diagonal)
F/NO: 2.3
Resolution: 720 * 576
Video standard: PAL
Video output level: 1.0Vp-p Typ./75ohm
Power supply: DC 5.0V/0.5A
Power consumption: 1.6W
Operating temperature: 0℃~60℃
Specification(STX202):
Modulate: Wideband FM modulate
Video standard: NTSC/PAL
Video input level: 1.0Vp-p Typ./75ohm
Video band width: 8.0MHz
Audio input level: 2.0Vp-p Typ./10Kohm
Audio carrier frequency: 6.5MHz
Power supply: DC 5V/1.2A
Power consumption: 5V input: 5.5W
Operating temperature: 0℃~70℃
RF output impedance: 50 ohm
RF output power: 22~24dBm
Specification(SKY02S V+):
Binocular display
FOV: 30 degrees(diagonal)
Resolution: 854*480(WVGA) 1,229,760 color sub-pixels
Brightness: 350cd/m²
Interpupillary distance(IPD): 59-69mm adjustable
Wireless Receiver
Sensitivity: -90dBm±1dBm
Antenna port: 2 * SMA, 50ohm
Front Camera
FOV: 60 degrees (diagonal)
Resolution: 640*480(VGA)
Focal length: f=4.0mm
F/NO: 2.8
Head Tracker
Sensor: Magnetic, inertial and gyro
Output: PPM 8 channel, Optional 5-6CH, 5-7CH, 5-8CH, 6-7CH, 6-8CH, 7-8CH
Record
Micro SD: Support to 32GB
Compression: MJPEG, 30fps, AVI
Picture: JPEG
Record rate: 6Mbps
AV Signal
Video standard: NTSC/PAL
Video output level: 1.0Vp-p Typ./75ohm
Audio output level : 1.0Vp-p Typ./10Kohm
AV Port
Div.AV OUT(3.5mm4P): Diversity video, audio output
EAR OUT(3.5mm3P): Stereo 16Ω/150mW
AV IN(3.5mm4P): Video/Audio input
Power Supply
DC IN: DC 7~26V/1A
Power consumption: 12V input: 5.4W
Preset Frequency:
CH1: 5733M, 5771M
CH2: 5752M, 5790M
CH3: 5809M, 5847M
CH4: 5828M, 5866M
Custom Frequency:
A: 5865M, 5845M, 5825M, 5805M, 5785M, 5765M, 5745M, 5725M
B: 5733M, 5752M, 5771M, 5790M, 5809M, 5828M, 5847M, 5866M
E: 5705M, 5685M, 5665M, 5645M, 5885M, 5905M, 5925M, 5945M
F: 5740M, 5760M, 5780M, 5800M, 5820M, 5840M, 5860M, 5880M
R:5658M, 5695M, 5732M, 5769M, 5806M, 5843M, 5880M, 5917M
L: 5362M,
5399M, 5436M, 5473M, 5510M, 5547M, 5584M, 5621M
Package Information:
Package size: 24.3 * 18 * 9.2cm / 9.5 * 7.1 * 3.6in
Package weight: 928g / 2.0lb
Brand gift box package
Package List:
1 * Goggles
1 * Carry Case
1 * STX202 Transmitter
1 * SCAM302 Camera
1 * Power Supply Board
1 * Futaba Data Cable
1 * JR Data Cable
1 * WFLY Data Cable
4 * 5.8G 2dBi Antenna
1 * 5P Camera Cable
2 * 3P TX Remote Control Cable
1 * AV Cable
1 * 2P TX Power Cable
1 * Power Cable
1 * Accessories
1 * User Manual
1.Does RcMoment.com check the products before shipping them to me?
Yes., of course.
We have a professional Quality Control team. They will check carefully for each item we received from suppliers and manufacturers to avoid sending defective goods to our customers.
If a item is found defective in our QC test, it will be returned to the supplier / factory. Please don't worry about receiving a defective item because we are committed to being a trustworthy and reliable seller on international on-line shopping market.

2.Are Products Guaranteed / Is There A Warranty?
Yes, everything you buy from RcMoment.com has a guarantee of quality and will exactly match the description on the website.
Factories that supply RcMoment.com are strictly evaluated by us, and we provide you an even better reassurance of consistent high quality thanks to our in-house QC team. We double-check the contents of all orders carefully before dispatch to our customers. You can be confident about ordering from RcMoment.com just as much as any western retailer.

3. How long dose it take to have my orders shipped after the payment is made?
1. Processing time 1-2 business days normally: During this period, we do strict quality-control tests and get the items carefully packed.
2. Sometimes the item in your order is really a hot seller and it may be just sold out at that time. It will take us 1-2 more days to get it available in stock again. In this case, The processing time will be 3 business days.
If you don't receive any shipping confirming over three days after the payment is made, please kindly contact our customer service . They will check for you.

4. What should I do if my items arrived damaged?
Rarely, rough handling by the courier can lead to physical damage to your goods, e.g. broken screen.
If this has happened, please follow these steps:
If possible, raise a complaint directly with the delivery representative of the courier company before you sign for the goods. They will advise you on the complaint procedure.
If you already signed for the packet, take photos showing the damage and contact the local office of the courier/delivery company to complain. They will have a complaining procedure which will enable you to get compensation.
Next, contact RcMoment.com immediately with your order number and a full description / pictures of the broken item issue. We will contact the courier company from our end.
Once the courier company confirms that the case is valid, they will compensate RcMoment.com, and we will pass on this compensation to you. The compensation varies from case to case and is different for each delivery company. In some cases you will need to pay to post the broken item back to RcMoment.com in order for us to send out a new piece.

5. What should I do if my products go broken after a period of use?
If you encounter quality issues within the warranty period, you can ask for us. Every product has a specific warranty period. If it is not stated in the product listing, please contact our consumer service team.

In this case, please kindly provide us with proof as below:
The photos of original RcMoment.com package with front and back sides
The photos or video of the defective item(s)
The photos, video or screenshot showing the malfunction of the defective item(s)

We will usually offer you a refund or send a replacement as soon as the problem is confirmed.
Sometimes you may need to ship the defective item back to us for free repair service or a new replacement. Customer should cover the return shipping fee, and RcMoment.com is responsible for the shipping costs of arranging reshipment by air mail.