Be your own director and tell your story as never before. Reach for the sky and capture professional quality footage from a new perspective. With a crystal clear camera, real-time HD video display, and intuitive flight controls, what will you create?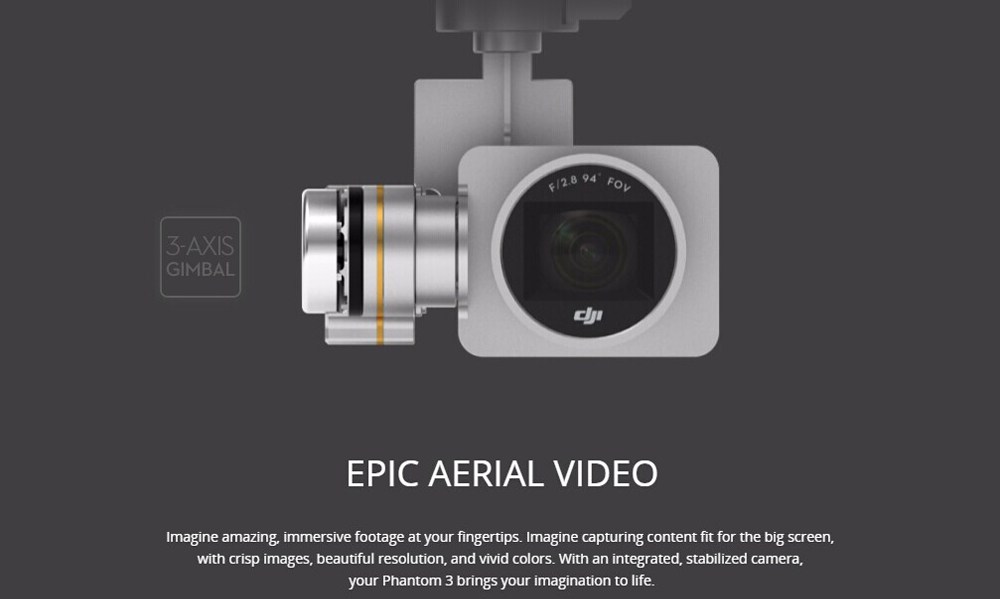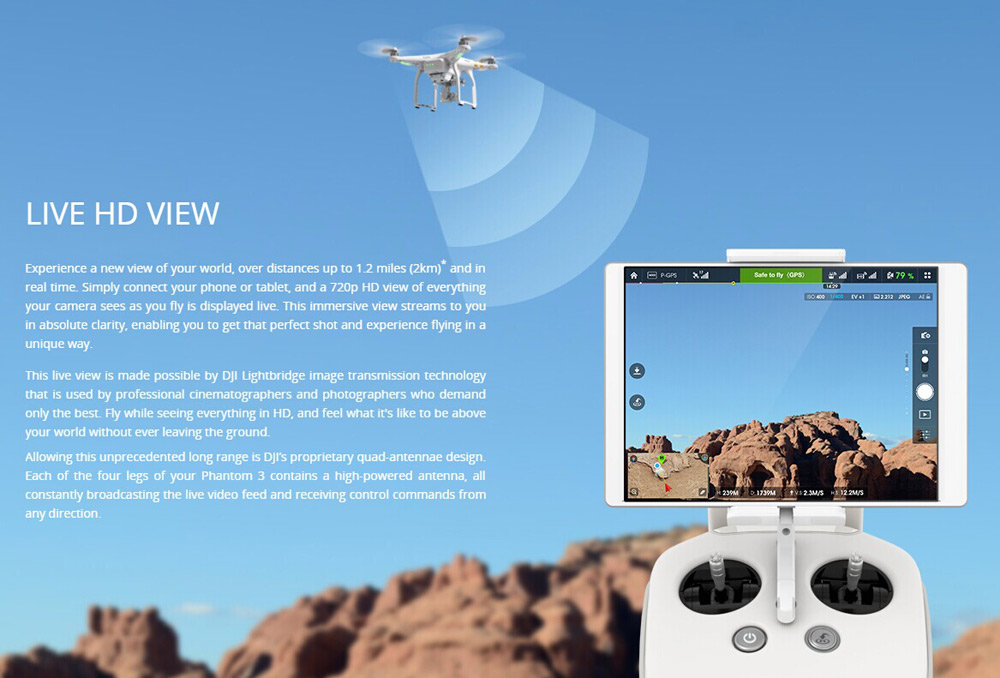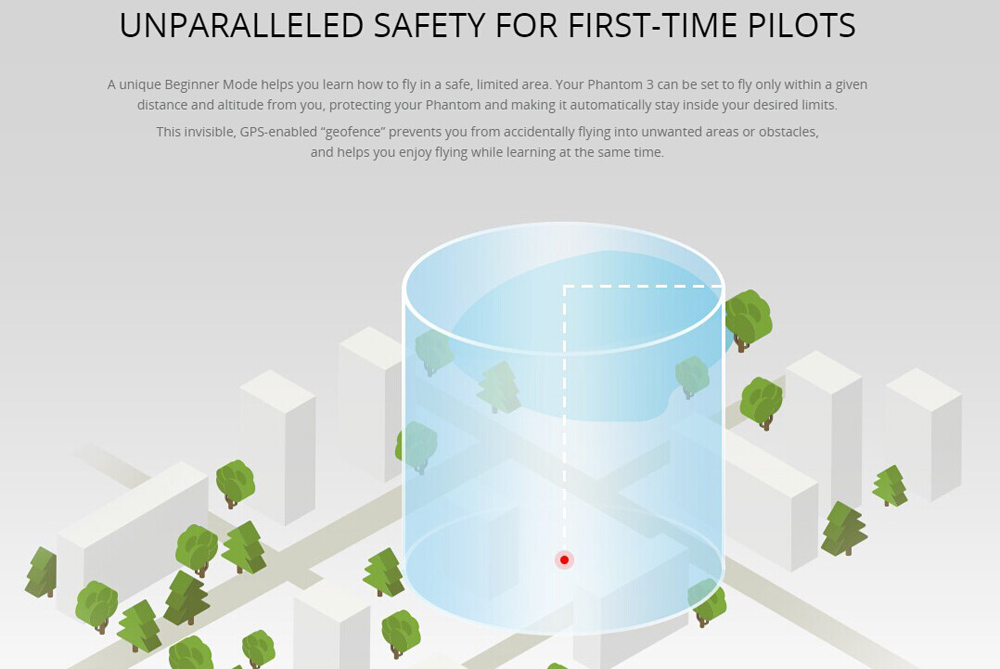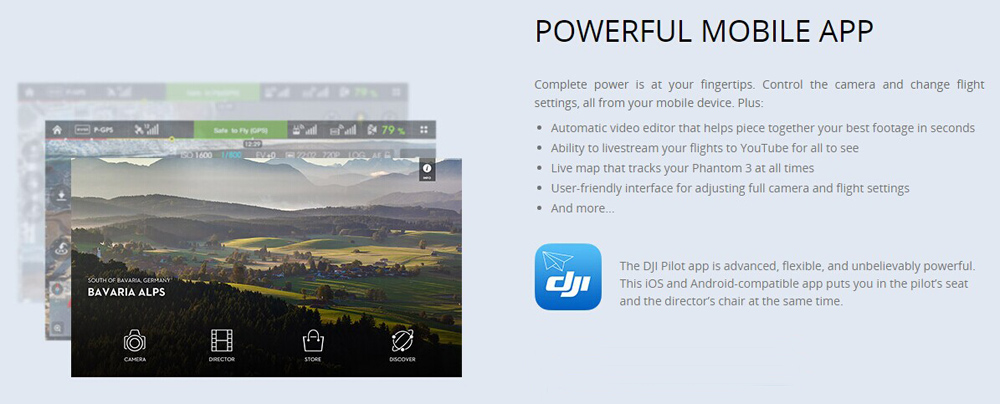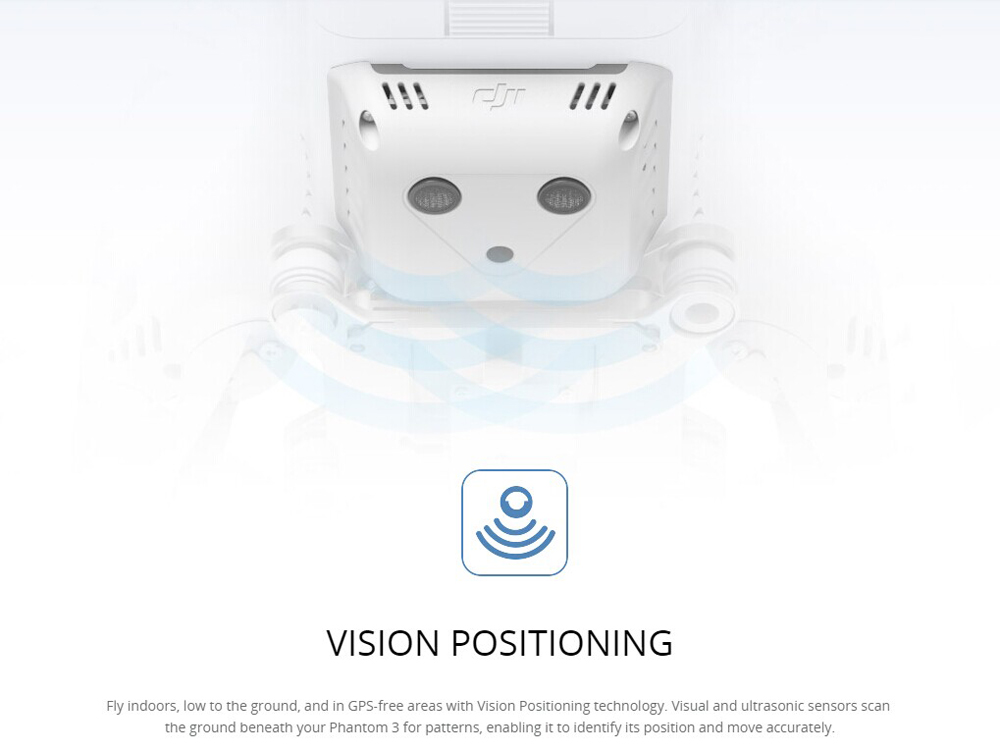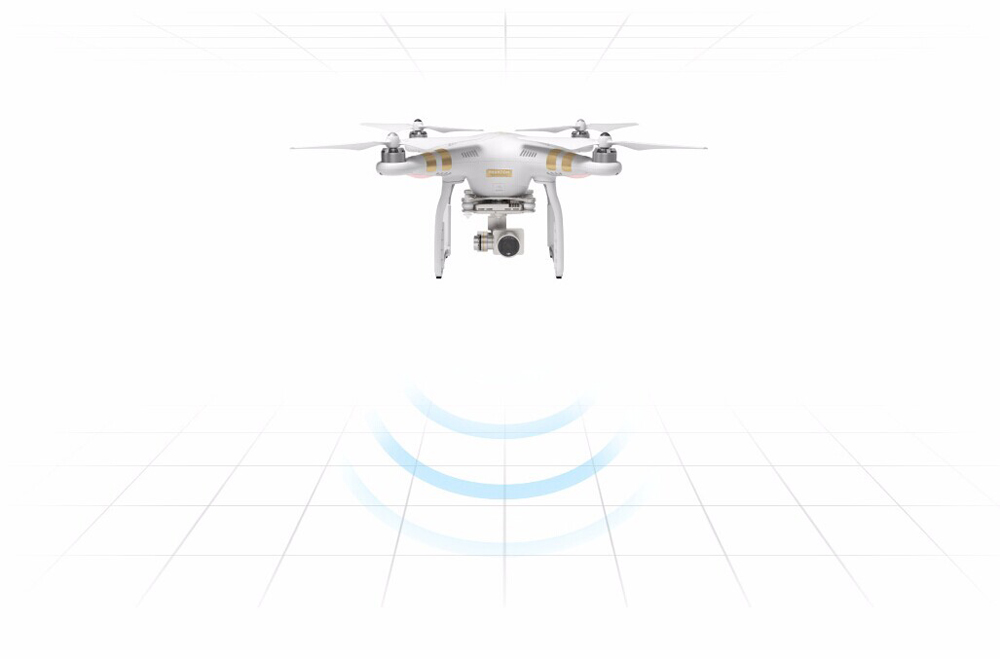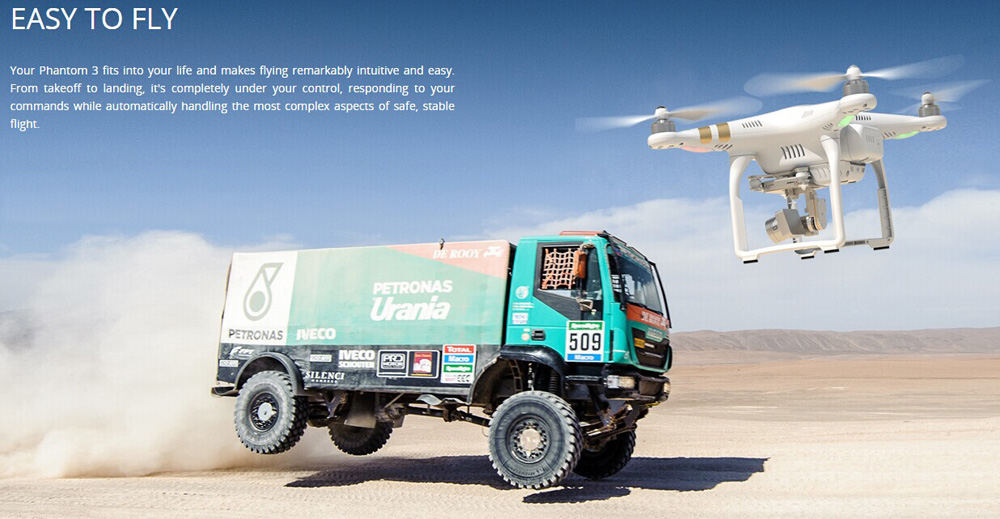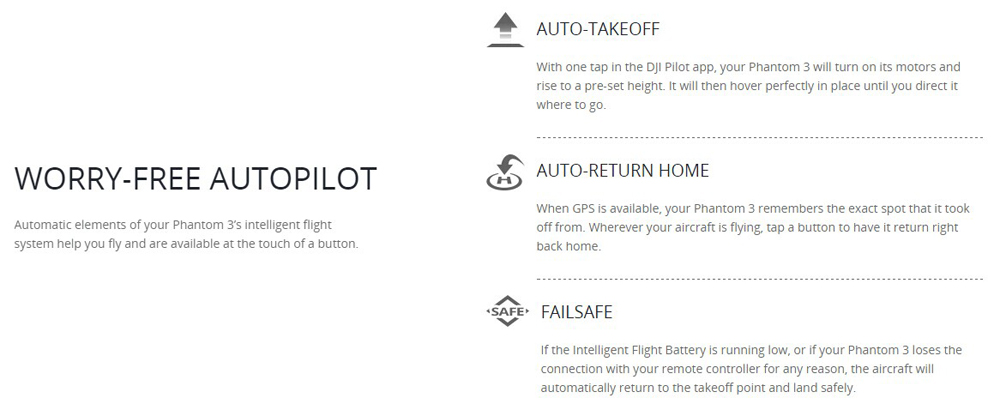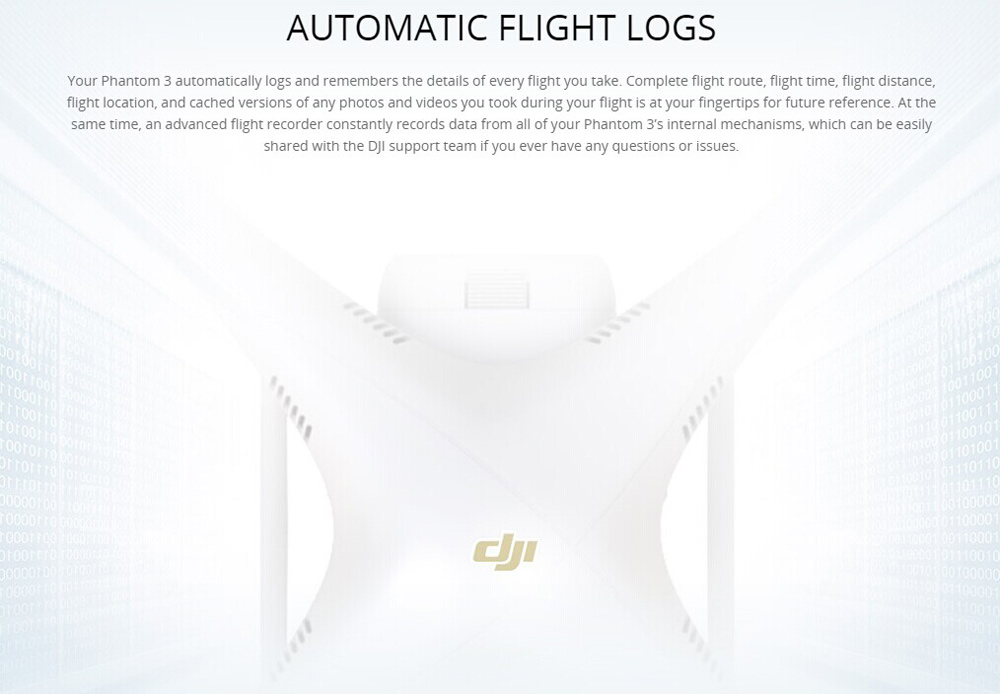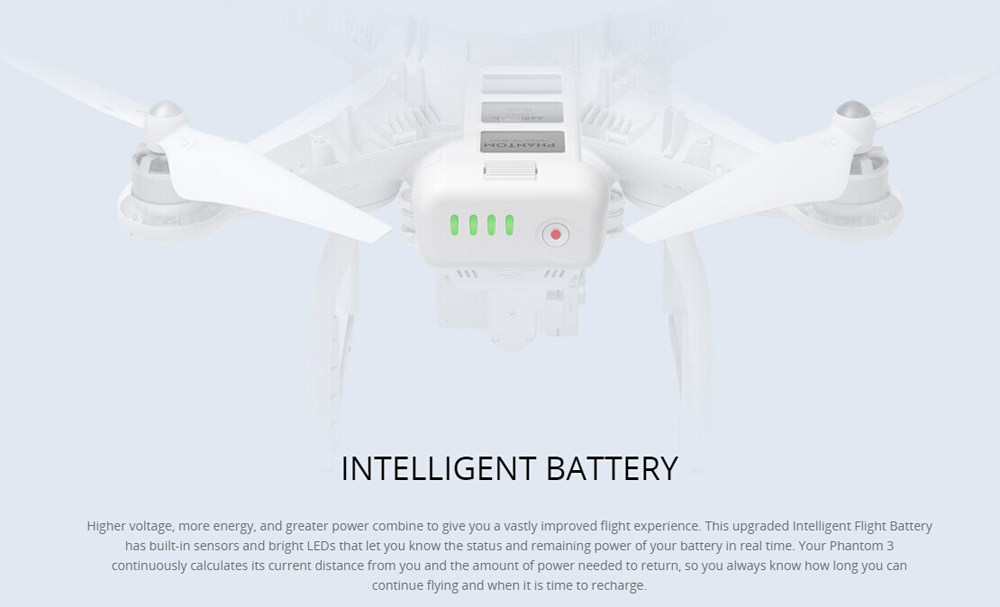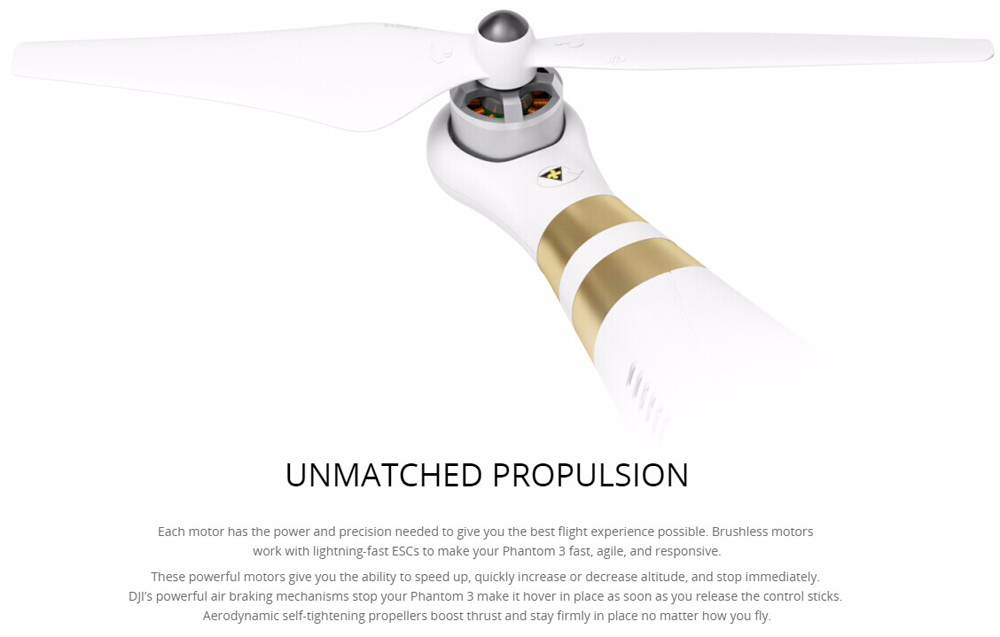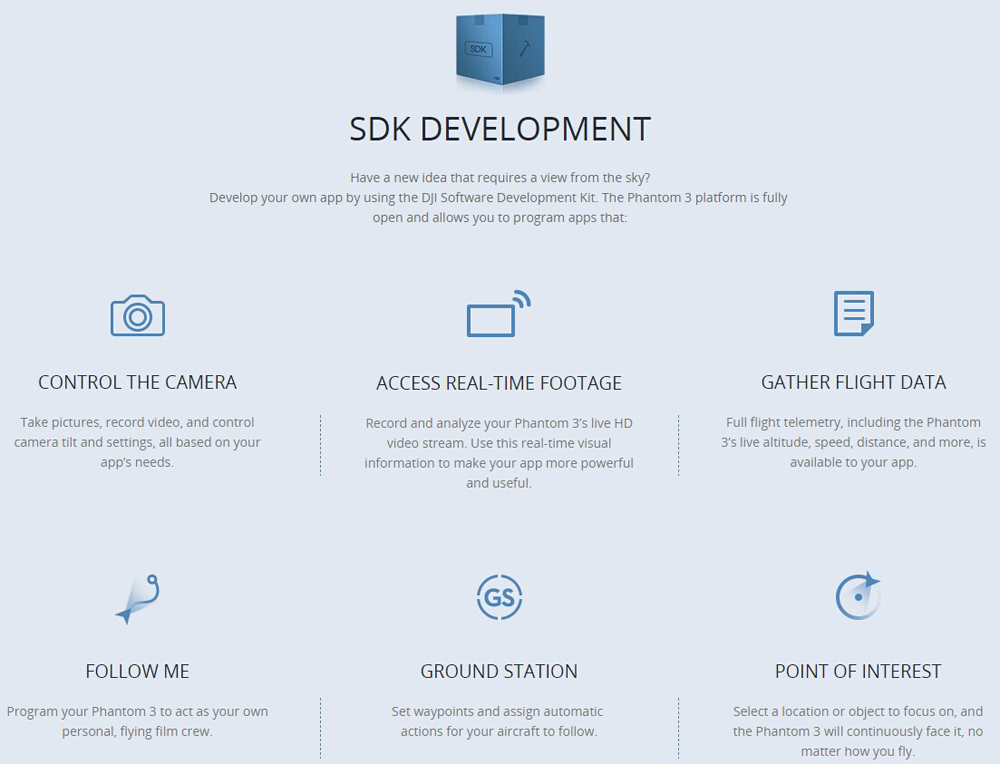 Features:
1.Epic Aerial Video:
Imagine amazing, immersive footage at your fingertips. Imagine capturing content fit for the big screen, with crisp images, beautiful resolution, and vivid colors.With an integrated, stabilized camera, your Phantom 3 brings your imagination to life.
2.Easy to Fly:
Your Phantom 3 fits into your life and makes flying remarkably intuitive and easy.
From takeoff to landing, it is completely under your control, responding to your commands while automatically handling the most complex aspects of safe, stable flight.
3.Powerful Mobile APP:
Complete power is at your fingertips.
Control the camera and change flight settings, all from your mobile device.
4.Live HD View:
Experience a new view of your world, over distances up to 1.2 miles (2km) and in real time. Simply connect your phone or tablet, and a HD view of everything your camera sees as you fly is displayed live.
This immersive view streams to you in
absolute clarity, enabling you to get that perfect shot and experience flying in a unique way. This live view is made possible by DJI Lightbridge image transmission technology that is used by professional cinematographers and photographers who
demand only the best.
Fly while seeing everything in HD, and feel what it's like to be above your world without ever leaving the ground.
5.Intelligent Battery:
Higher voltage, more energy, and greater power combine to give you a vastly improved flight experience.
This upgraded Intelligent Flight Battery has built-in sensors that let you know the status of your battery in real time, so you always know how
long you can continue flying and when it's time to recharge.
Recharging is fast and easy, and the Phantom 3 comes with an upgraded charger for substantially reduced charge times.
6.Complete Control:
Keep your Phantom 3 fully under your command while accessing the most-used features right on the included remote controller. This crucial piece of your flight experience has been engineered specifically for flying camera platforms, making every
flight easy, safe, and intuitive.
7.Unmatched Propulsion:
Each motor has the power and precision needed to give you the best flight experience possible. Brushless motors work with lightning-fast ESCs to make your Phantom 3 fast, agile, and responsive.
8.Vision Positioning:
Fly indoors, low to the ground, and in GPS-free areas with Vision Positioning technology. Visual and ultrasonic sensors scan the ground beneath your Phantom 3 for patterns, enabling it to identify its position and move accurately.
9.Worry-free Autopilot:
Automatic elements of your Phantom 3 intelligent flight system help you fly and are available at the touch of a button.
10.Automatic flight logs:
Your Phantom 3 automatically logs and remembers the details of every flight you take.
Complete flight route, flight time, flight distance, flight location, and cached versions of any photos and videos you took during your flight is at your fingertips for future reference.
At the same time, an advanced flight recorder constantly records data from all of your Phantom 3's internal mechanisms, which can be easily shared with the DJI support team if you ever have any questions or issues.
Specifications:
Aircraft:
Brand name: DJI
Model name: DJI Phantom 3
Item type: RC quadcopter
Weight (Including battery and propellers): 1280g
Diagonal size (Excluding propellers): 350mm
Max ascent speed: 5m/s
Max descent speed: 3m/s
Hover accuracy: Vertical: +/- 0.1m (when Vision Positioning is active) or +/- 0.5m Horizontal: +/- 1.5m
Max speed: 16m/s (ATTI mode, no wind)
Max altitude above sea Level: 6000m
Operating temperature: 0°C to 40°C
GPS mode: GPS/GLONASS
Camera:
Sensor: Sony EXMOR 1/2.3''
Effective pixels: 12.4M (total pixels: 12.76M)
Lens: FOV 94° 20mm (35mm format equivalent) f/2.8, focus at ∞
ISO range: 100-3200 (video) 100-1600 (photo)
Shutter speed: 8s -1/8000s
Image max size: 4000 x 3000
Still photography modes:
Single shot
Burst shooting: 3/5/7 shots
Auto exposure bracketing (AEB): 3/5
Bracketed frames at 0.7EV Bias
Time-lapse
Video Recording Modes:
Phantom 3 Professional
UHD: 4096x2160p 24/25, 3840x2160p 24/25/30
FHD: 1920x1080p 24/25/30/48/50/60
HD: 1280x720p 24/25/30/48/50/60
Supported SD card types:
Micro SD
Max capacity: 64GB. Class 10 or UHS-1 rating required
Max bitrate Of video storage:
Phantom 3 Professional: 60 Mbps
Supported file formats: FAT32 ( ≤ 32 GB ); exFAT ( > 32 GB )
Photo: JPEG, DNG
Video: MP4, MOV (MPEG-4 AVC/H.264)
Operating temperature: 0°C to 40°C
Gimbal:
Controllable range: Pitch -90° to +30°
Stabilization: 3-axis (pitch, roll, yaw)
Vision positioning:
Velocity range: Less than 8m/s (when 2m above ground)
Altitude range: 30cm-300cm
Operating range: 50cm-300cm
Operating environment: Surface with clear pattern and adequate lighting (Lux > 15)
Remote Controller:
Mode type: mode 2
Operating Frequency: 2.400GHz-2.483GHz
Max Distance: 2000m (outdoors and unobstructed)
Video Output Port: USB
Operating Temperature: 0°C- 40°C
Battery: 6000mAh LiPo 2S
Mobile Device Holder: For tablet or phone
Receiver Sensitivity (1%PER): -101dBm ±2dBm
Transmitter Power (EIRP):
FCC: 20dBm
CE: 16dBm
Working voltage: 1.2A 7.4V
Battery charger:
Voltage: 17.4V
Rated Power: 100W
Intelligent flight battery:
Capacity: 4480mAh
Voltage: 15.2V
Battery Type: LiPo 4S
Energy: 68Wh
Net Weight: 365g
Max Flight Time: About 23 minutes
Operating Temperature: -10°C to 40°C
Max Charging Power: 100W
App / Live view:
Mobile App: DJI GO
EIRP: 100mW
Live view working frequency: 2.4GHz ISM
Live view quality: 720P @ 30fps (depending on conditions and mobile device)
Latency: 220ms (depending on conditions and mobile device)
Required operating systems: iOS 8.0 or later; Android 4.1.2 or later
Recommended Devices:
iOS: iPhone 5s, iPhone 6, iPhone 6 Plus, iPad Air, iPad Air Wi-Fi + Cellular, iPad mini 2, iPad mini 2 Wi-Fi + Cellular, iPad Air 2, iPad Air 2 Wi-Fi + Cellular, iPad mini 3, and iPad mini 3 Wi-Fi + Cellular. This app is optimized for iPhone 5s, iPhone 6,
and iPhone 6 Plus
Android: Samsung S5, Note 3, Sony Xperia Z3, Google Nexus 7 II, Google Nexus 9, Mi 3, Nubia Z7 mini
*Support for additional Android devices available as testing and development continues
Package information:
Package size: 51.5 * 50 * 40cm / 20.3 * 19.7 * 16in
Package weight: 7630g /
16.8
lb
Gift package
​
Caution for the battery:
Don't over-charge, or over-discharge batteries.
Don't put it beside the high temperature condition.
Don't throw it into fire.
Don't throw it into water.
Package list:
1 * DJI Phantom 3 Professional Version Quadcopter
1 * Remote Controller(mode 2) with Support Gear for ipad
1 * Gimbal with 4K HD Camera
4 * Pair of Propellers
2 * Intelligent Fight Battery
1 * Phantom Backpack
1 * Battery Charger Set
1 * 16GB Micro SD Card
1 * Accessories Set
1 * English Manuals Set
FAQ:
1、Why is the discharger time of the battery not zero, even though I have never used it?
Every battery is tested prior to being packaged and shipped. This affects the discharge time of a new battery and is the reason that the discharge time is not zero. The battery is safe to use.
2、Can the mobile device holder be used on the Phantom 2 series romote controller?
No, it cannot.
3、Dose my Phantom 3 support dual romote controllers?
No. The included Remote Controller can be used to control both the aircraft and the gimbal tilt at the same time.
4、My Phantom 3 does not turn off right away, is something wrong?
This is normal. After you attempt to power off the Intelligent Flight Battery, it may remain on for a few seconds as any video data is saved to the Micro SD card. This helps prevent your data from being lost or corrupted.
5、Can I use a Phantom 2 intelligent flight battery with the Phantom 3?
No. The Phantom 3 uses a newly designed Intelligent Flight Battery with greater power. The Phantom 3 has a 4 cell battery with a capacity of 4480 mAh and a voltage of 15.2 V.