LiDi RC L15W jest wielofunkcyjny i potężny quadcopter FPV. Jest on wyposażony w wysokiej jakości powłoki, wzmocnione podwozie i osłony na śmigła odłączany, które sprawiają, że niezwykle silne. Z 0.3MP aparat, jest w stanie wykonać FPV lotu wewnątrz i na zewnątrz, i rób zdjęcia i filmy w tym samym czasie, wszystko co musisz zrobić jest wziąć telefon i podłączyć do drona. System transmisji Wifi umożliwia również sterowanie dron za pośrednictwem telefonu. To otrzyma również 3D flip, tryb bez głowy, jednego klawisza return, przełącznik prędkości i wysokości przytrzymaj, które charakteryzują się wysoką wydajnością i bezpiecznego lotu. ("LiDi RC" aplikacji jest obsługiwany na IOS i Android)
(Telefon na poniższych zdjęciach nie jest dołączony)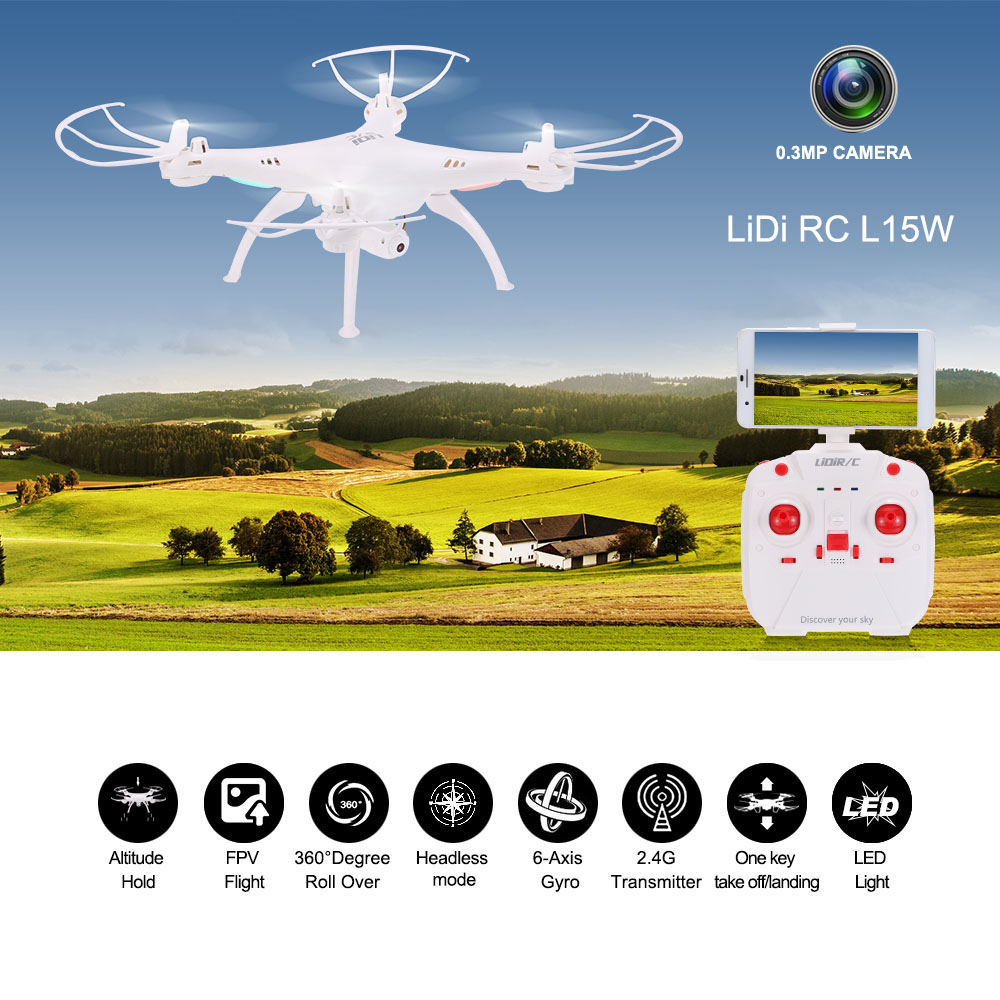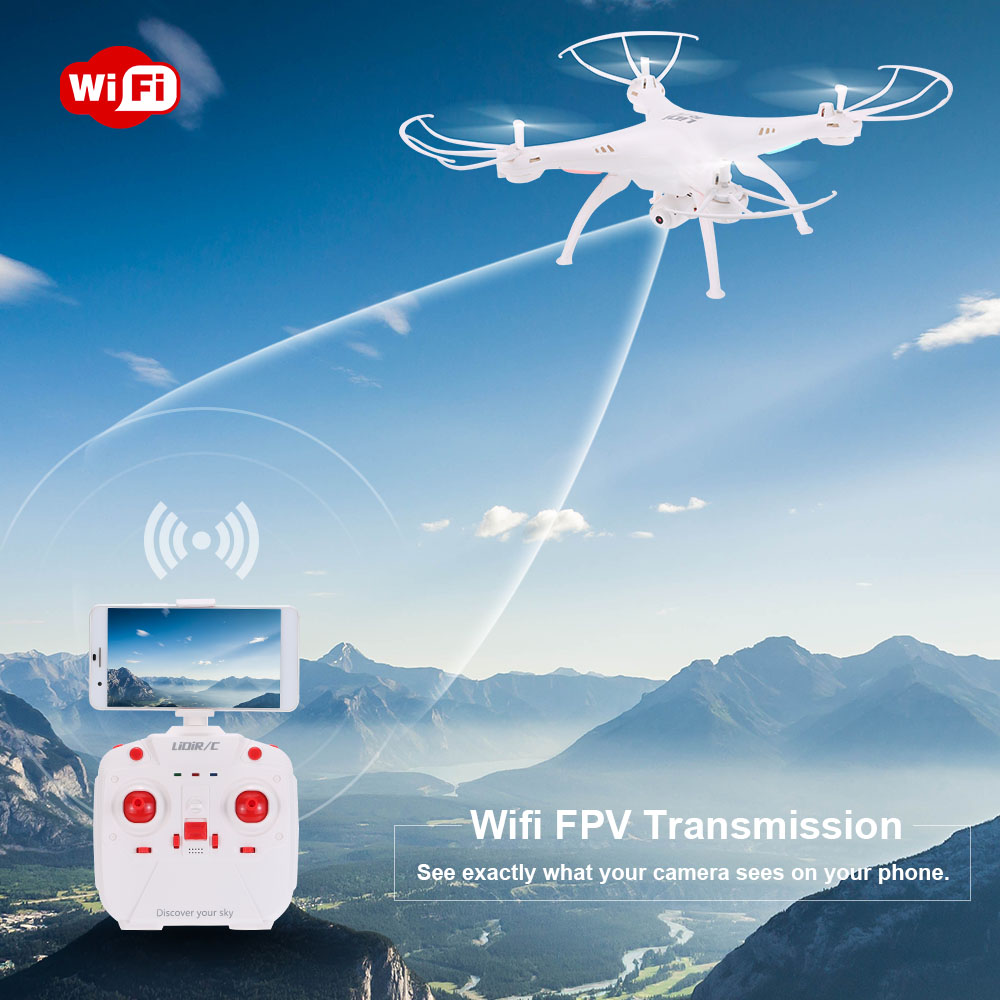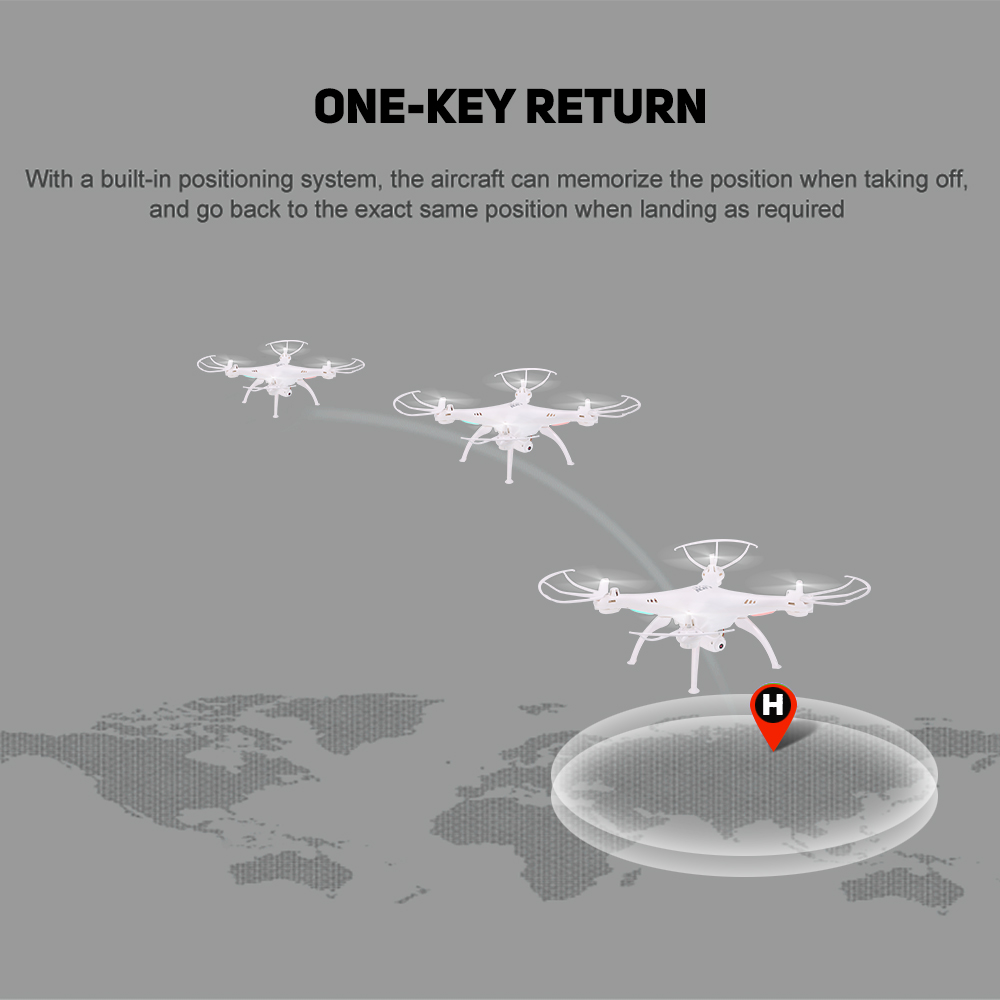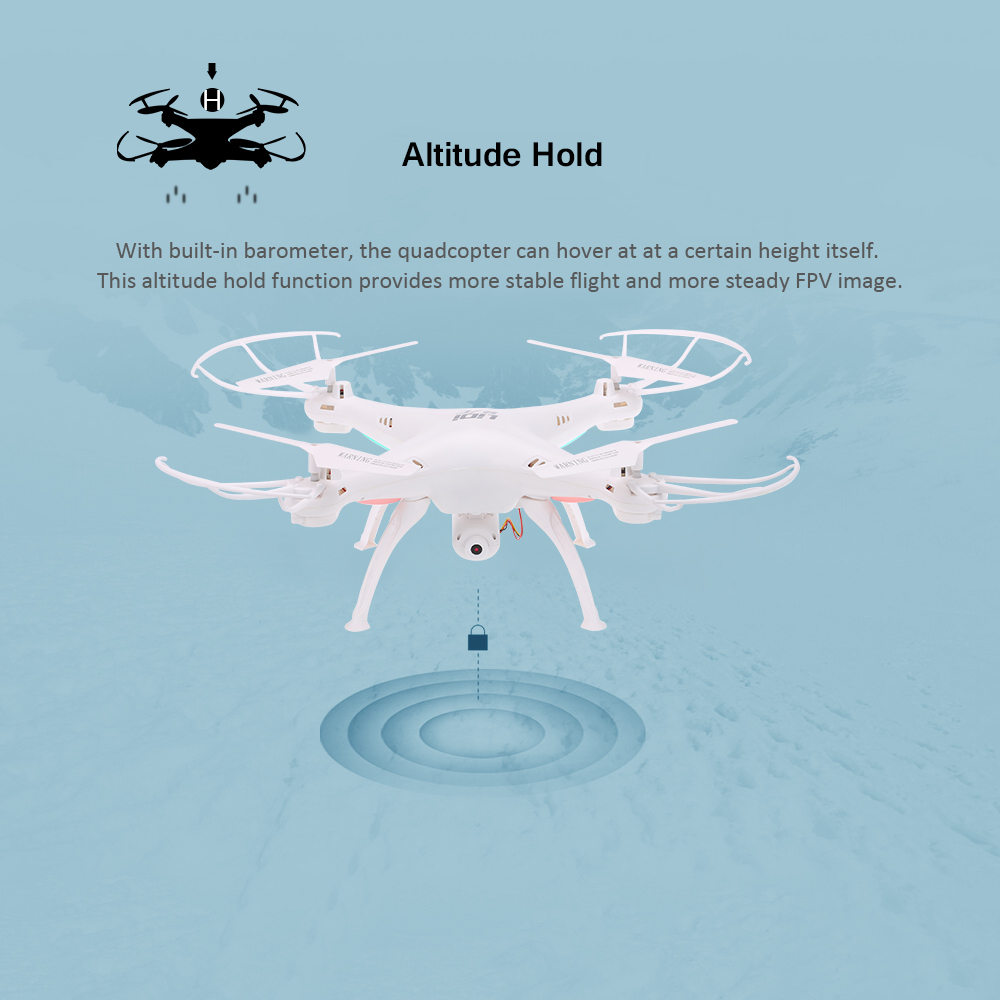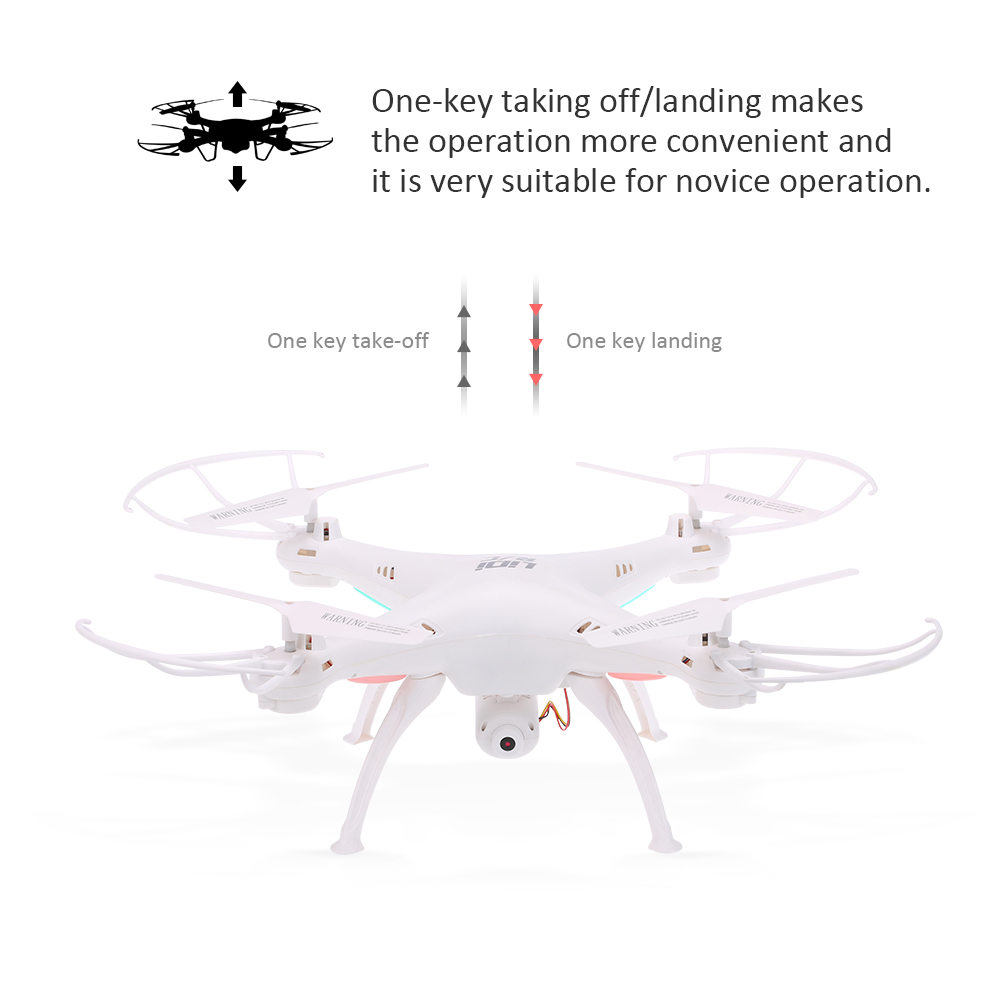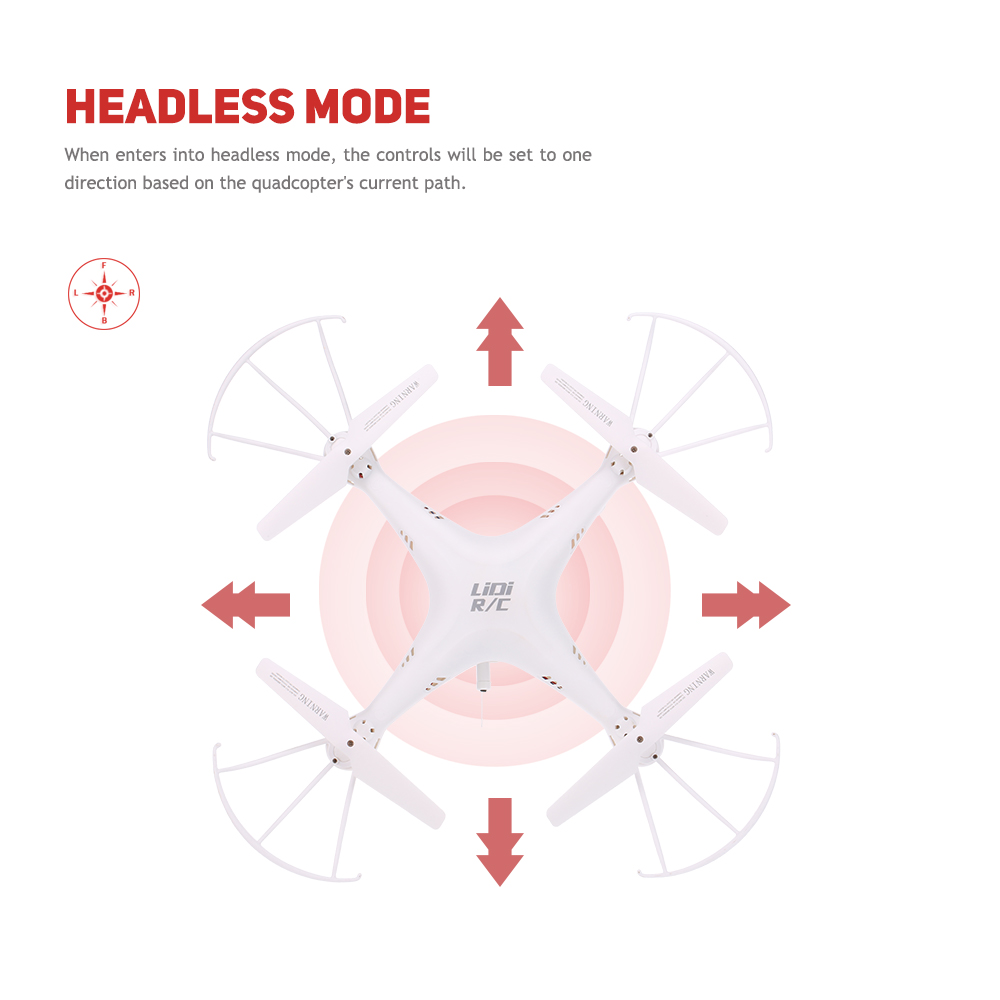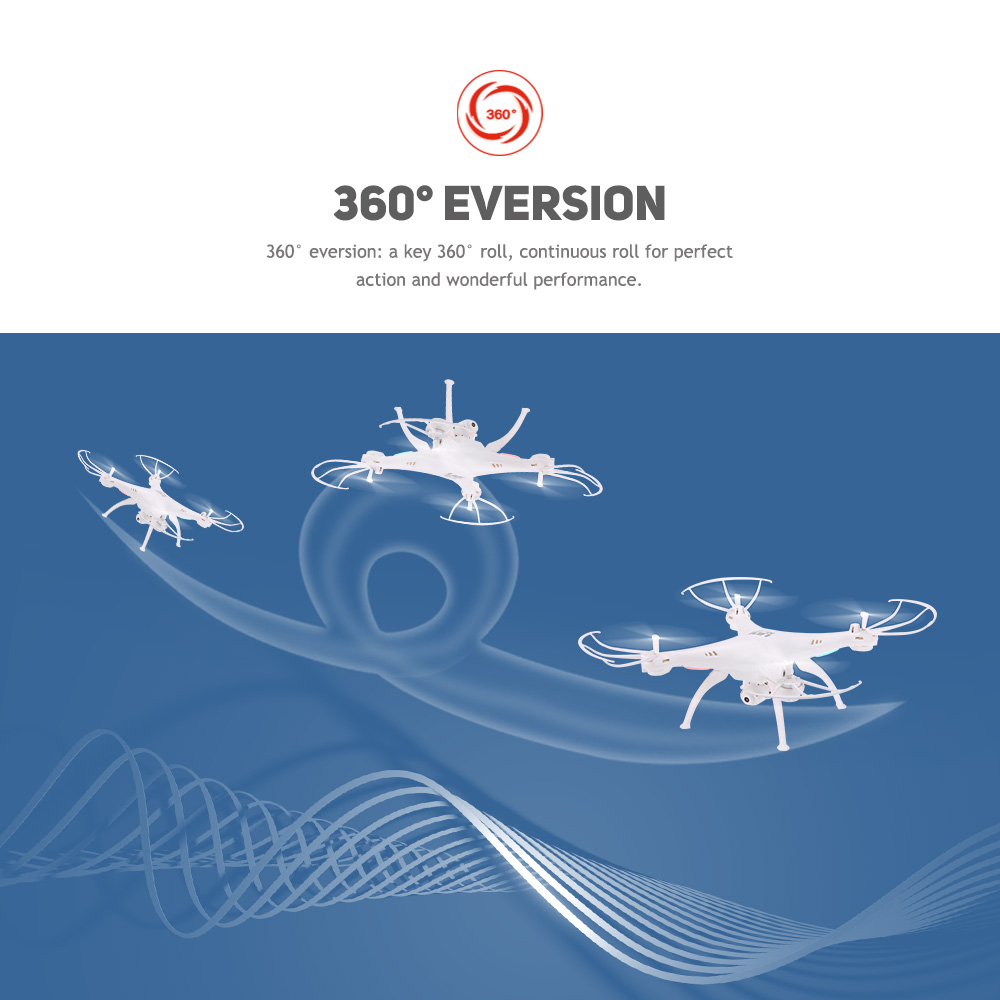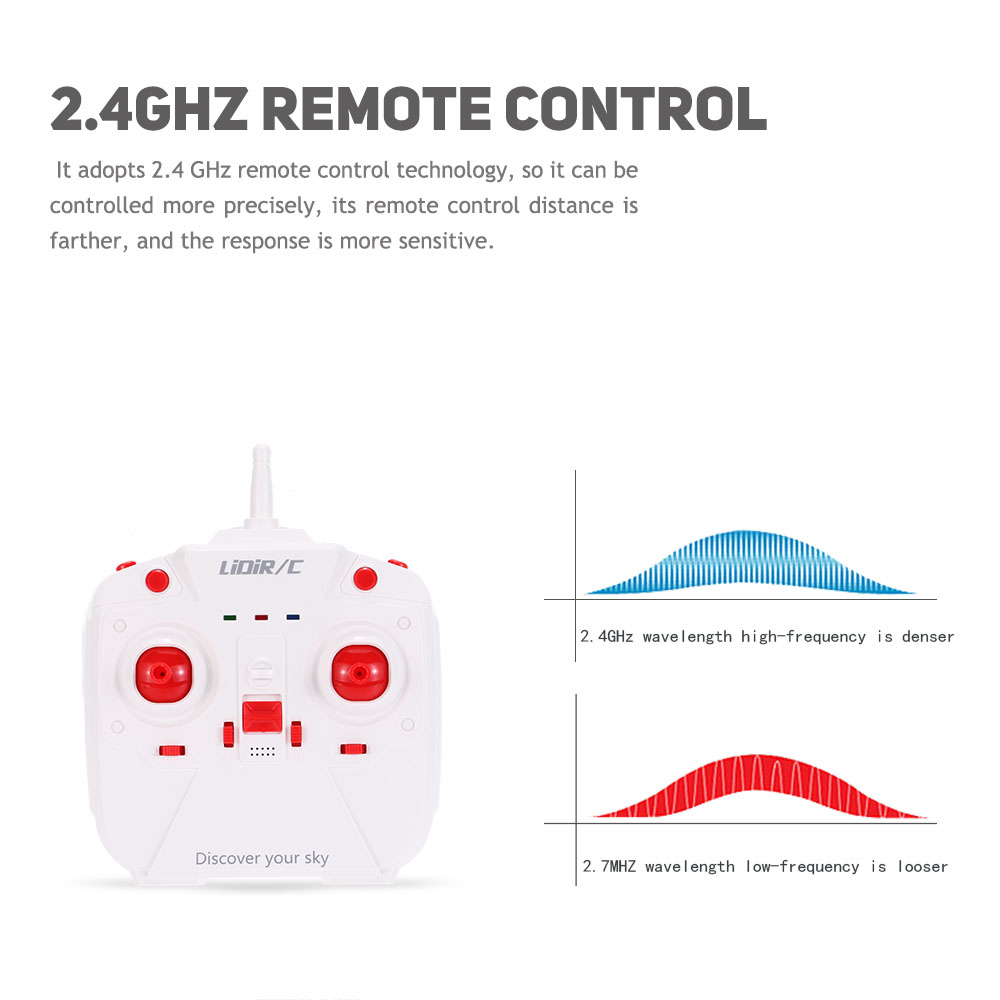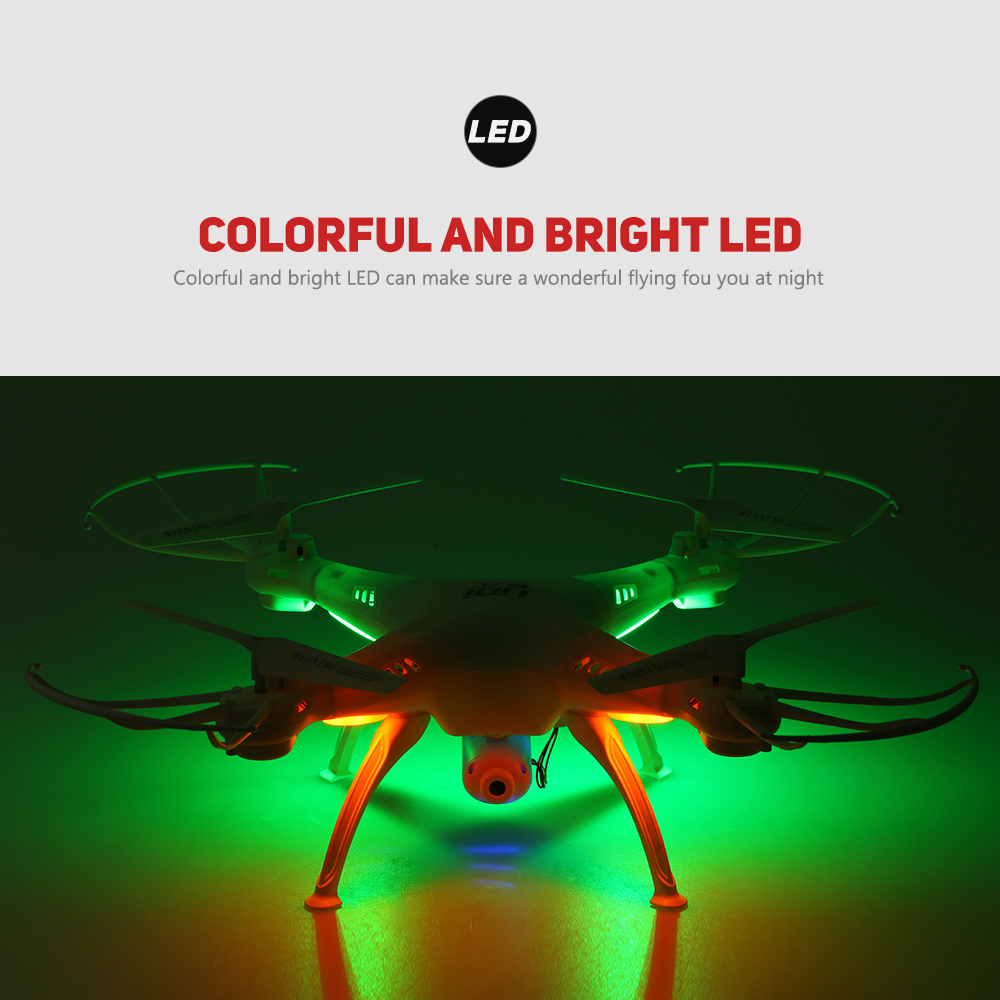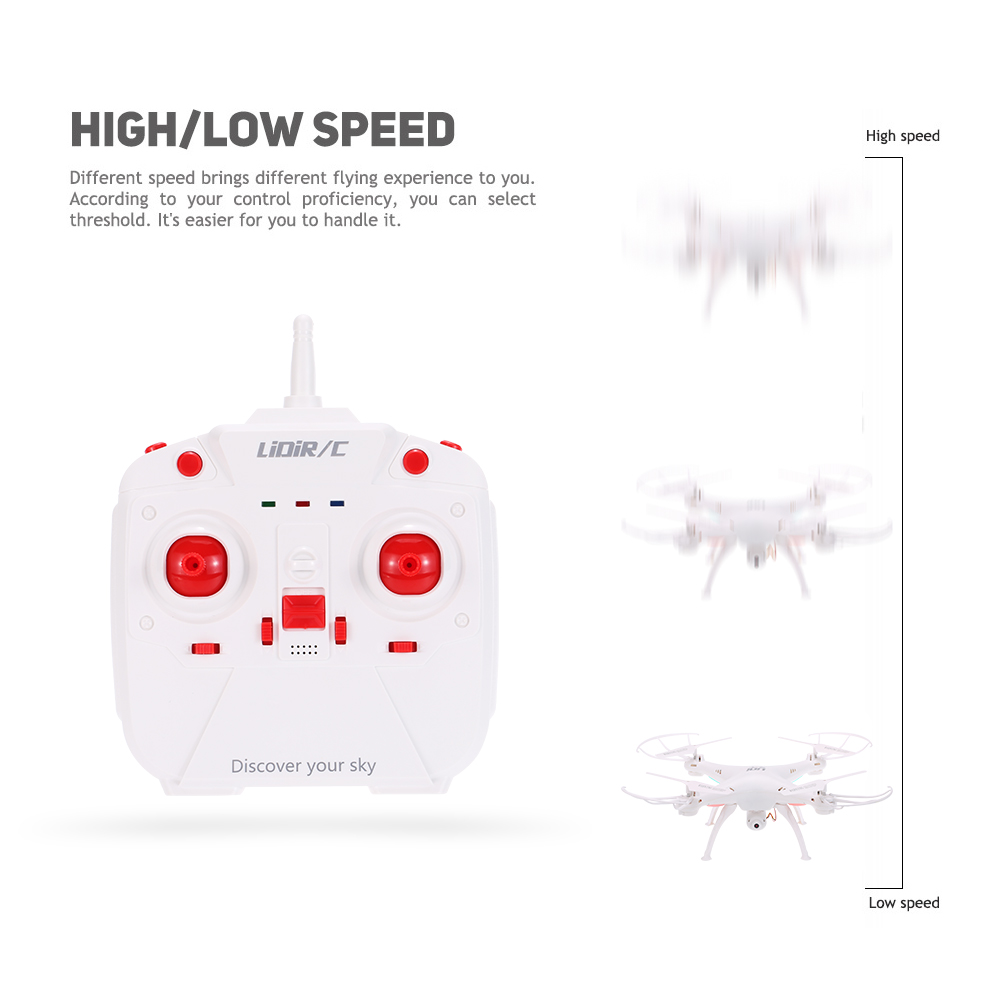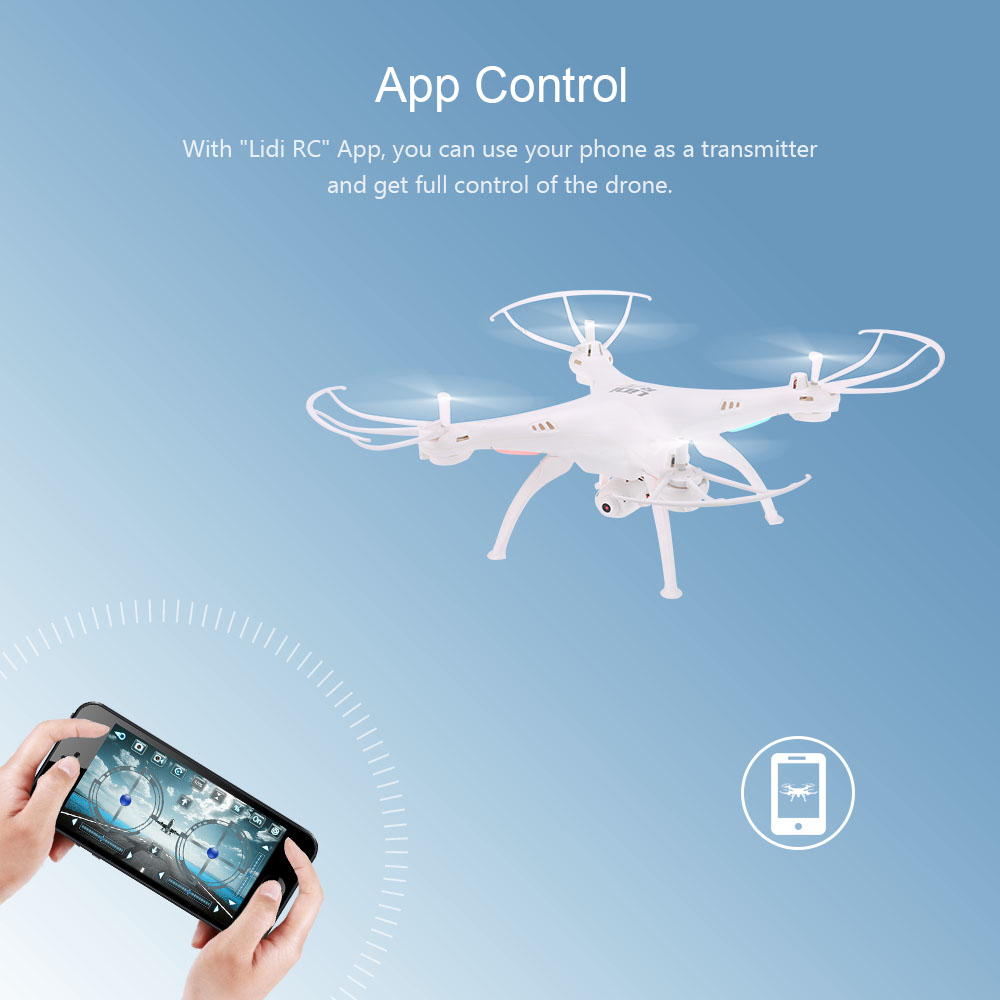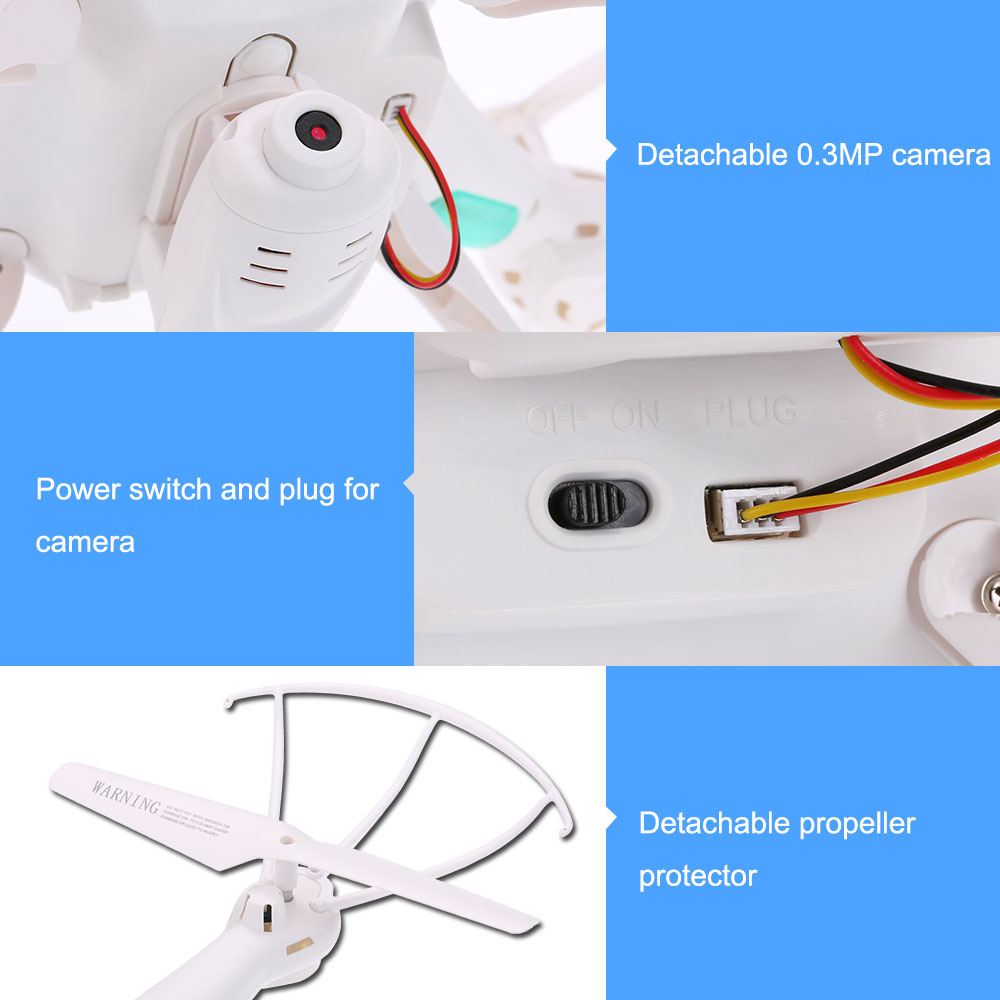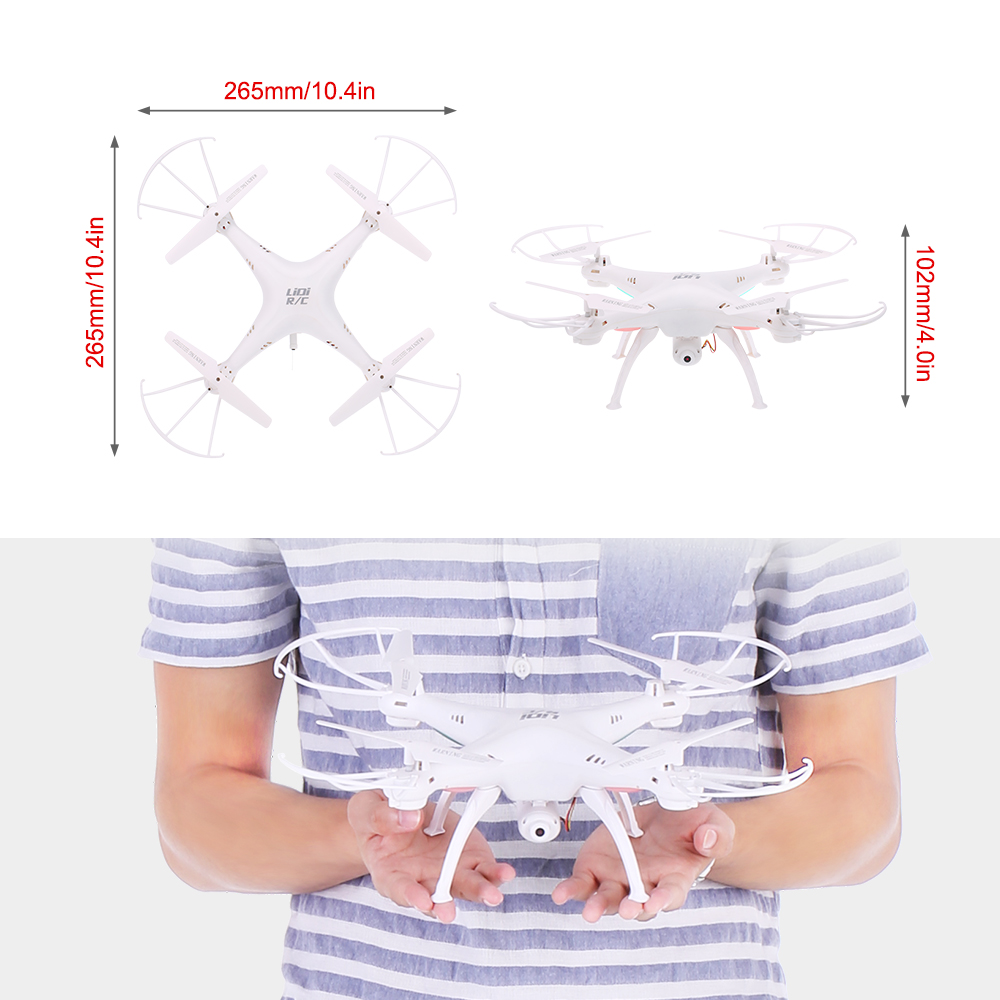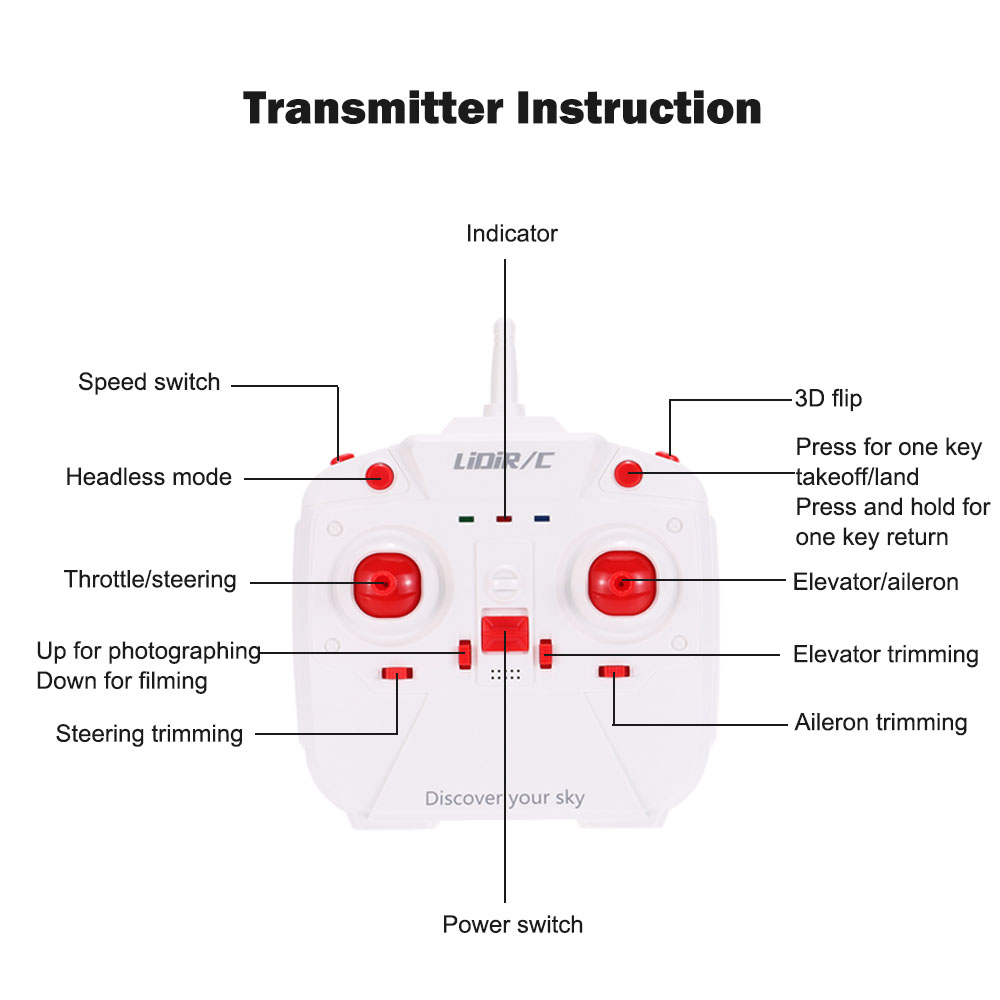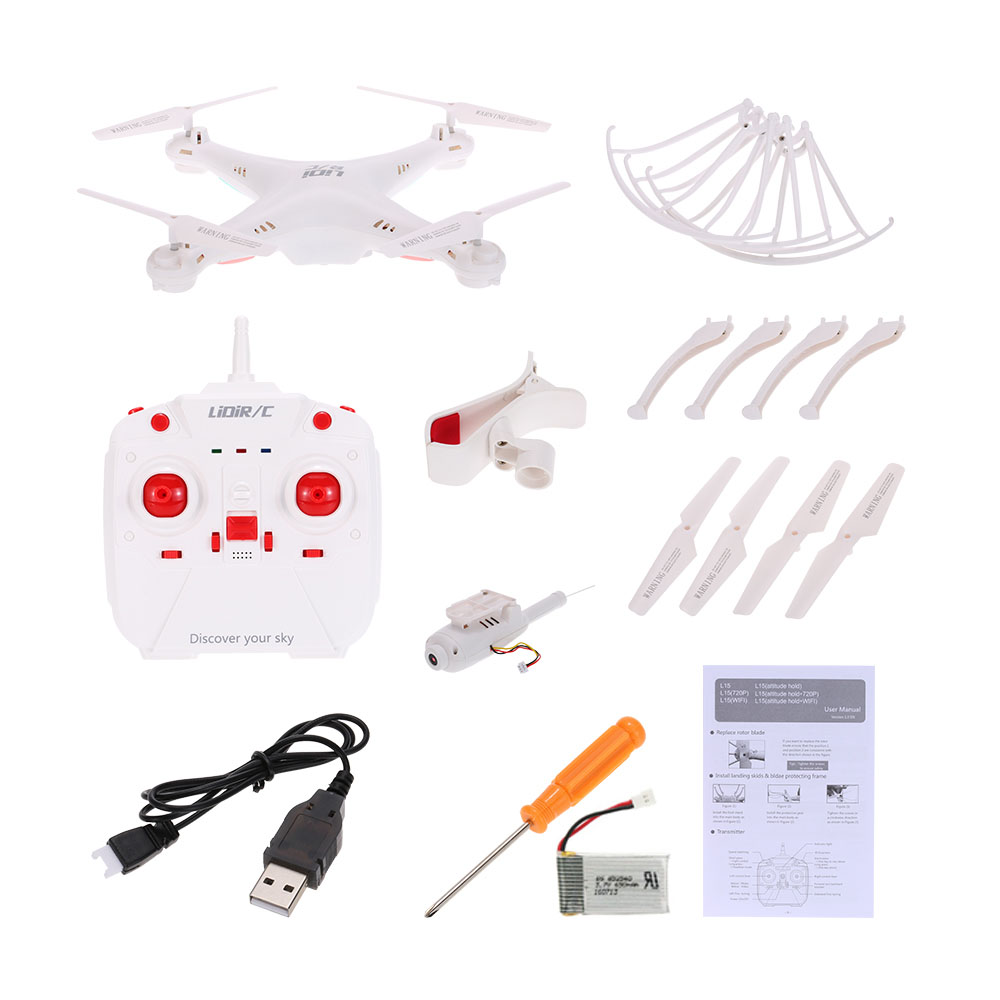 Funkcje:
Dobra jakość wykonania i atrakcyjny wygląd.
Dioda LED umożliwia latać w ciemności w nocy.
0.3MP aparat do robienia zdjęć i filmów.
Transmisji obrazu WiFi FPV, również w stanie kontrolować drone za pośrednictwem telefonu.
2.4Ghz technologia przyjętych w celu zwalczania zakłóceń.
Osłony na śmigła odłączany zapewnienia bezpiecznego lotu.
Niską prędkość przełącznik, nadaje się do wewnątrz i na zewnątrz.
Wysokości przytrzymaj funkcje stabilny lot.
Funkcja 3D-flip i trybie headless sprawiają, że lot ekscytujące i zabawne.
Z jednego klawisza return funkcji drone można łatwo znaleźć swoją drogę do domu.
Najnowsze 6-osiowy żyroskop system kontroli gwarantuje stabilny lot i łatwa obsługa.
Dane techniczne:
Nazwa marki: LiDi RC! Nazwa przedmiotu: L15W
Kolor: biały! Kontroler: 2,4 Ghz mode 2
Kanały: 4 kanały! Żyroskop: 6-osiowy
Funkcja: Do przodu/do tyłu, góra/dół, lewo/prawo, bok lotu, unoszące, tryb 3D-flip, bez głowy, niską prędkość, jednego klawisza return, przytrzymaj wysokości, wifi transmisji obrazu w czasie rzeczywistym, Zdjęcie i wideo biorąc, aplikacja kontroli
Zdalnie na odległość: 2,4 G nadajnik około 100m, Wifi aplikacji kontroli około 30m! Bateria do quadcopter: 3.7V akumulator litowo polimerowy 650mAh
Waga baterii: 18g
Wymiary baterii: 4.7 * 2.5 * 9 mm
Czas ładowania: O 60 minut! Czas pracy: O 8 minut! Bateria do pilota: 4 * baterii AA
(nie dołączone)
Wymiary przedmiotu: 265 * 265 * 102 mm / 10.4 * 10.4 * 4 w
Ciężar: 123,4 g
Mogą istnieć pewne odstępstwa ze względu na pomiar ręczny.
Przestroga dla akumulatora:
Nie nadmierne opłaty lub nadmiernym rozładowaniem baterii.
Nie umieścić go obok wysokiej temperatury.
Nie wyrzucaj go do ognia.
Nie wyrzucaj go do wody.

Ogłoszenia:
Ten model RC to nie zabawka i nie nadaje się dla dzieci poniżej 14 roku życia, trzymać go z dala od dzieci.
Uważnie przeczytać instrukcję obsługi przed użyciem produktu, jeśli jesteś początkujący, to należałoby wspomagana przez doświadczonych dorosły.
Ten RC drone jest wyposażony w silniki DC bez rdzenia, ciągłe korzystanie z różnych baterii nie jest zalecane.

Pakiet informacji:
Wielkość opakowania: 33 * 23 * 12 cm / 13 * 9 * 4.7 w
Waga w opakowaniu: 580g / 1.3b! Gift box pakiet

Lista pakietu:
1 * LiDi RC L15W Quadcopter
1 * 2,4 G nadajnik (tryb 2)
Akumulator litowo polimerowy 650mAh 1 * 3.7V
1 * ładowarka USB
4 * zapasowe śmigła! 1 * stojak na telefon! 4 * śmigło Protector! 1 * aparat! 1 * śrubokręt
1 * angielski Podręcznik
FAQ statku powietrznego:
1. statek powietrzny nie łączyć się z nadajnika.
Po pierwsze bateria w pełni, następnie Włącz drone i nadajnik w ciągu 2 sekund.
2. jeden lub więcej silników nie działają.
Podczas tworzenia wiązania, drone na płaskiej powierzchni lub uszkodzony silnik.
3. Akcesoria brakuje.
Dokładnie sprawdzić gift box pakiet wewnątrz i na zewnątrz, lub skontaktuj się z usługi niestandardowe.
4. stan statku powietrznego jest z równowagi (nie potrafią latać, odchylenie, przędzenia na ziemi).
Sprawdź śruby jest zainstalowany w odpowiedni sposób.
5. w trakcie ładowania, baterii i ładowarki stopić.
Ładowarka USB tylko do portu USB komputera DC, nigdy dla AC obieg i pamiętaj, nigdy nie ponad doładowywania.
FAQ of the aircraft:
1. The aircraft fail to connect with transmitter.
First, battery fully charged, then power on the drone and the transmitter within 2 seconds.
2. One or more motors don't work.
When binding, drone on flat surface, or motor damaged.
3. Accessories missing.
Check gift box package inside and outside carefully, or contact custom service.
4. The aircraft is out of balance (can't fly, deviation, spinning on the ground).
Check the propellers is installed in the right way.
5. During the charging, battery and charging cable melt.
USB charger only for DC computer USB port, never for AC circuit and remember never over-charging.
1.Does RcMoment.com check the products before shipping them to me?
Yes., of course.
We have a professional Quality Control team. They will check carefully for each item we received from suppliers and manufacturers to avoid sending defective goods to our customers.
If a item is found defective in our QC test, it will be returned to the supplier / factory. Please don't worry about receiving a defective item because we are committed to being a trustworthy and reliable seller on international on-line shopping market.

2.Are Products Guaranteed / Is There A Warranty?
Yes, everything you buy from RcMoment.com has a guarantee of quality and will exactly match the description on the website.
Factories that supply RcMoment.com are strictly evaluated by us, and we provide you an even better reassurance of consistent high quality thanks to our in-house QC team. We double-check the contents of all orders carefully before dispatch to our customers. You can be confident about ordering from RcMoment.com just as much as any western retailer.

3. How long dose it take to have my orders shipped after the payment is made?
1. Processing time 1-2 business days normally: During this period, we do strict quality-control tests and get the items carefully packed.
2. Sometimes the item in your order is really a hot seller and it may be just sold out at that time. It will take us 1-2 more days to get it available in stock again. In this case, The processing time will be 3 business days.
If you don't receive any shipping confirming over three days after the payment is made, please kindly contact our customer service . They will check for you.

4. What should I do if my items arrived damaged?
Rarely, rough handling by the courier can lead to physical damage to your goods, e.g. broken screen.
If this has happened, please follow these steps:
If possible, raise a complaint directly with the delivery representative of the courier company before you sign for the goods. They will advise you on the complaint procedure.
If you already signed for the packet, take photos showing the damage and contact the local office of the courier/delivery company to complain. They will have a complaining procedure which will enable you to get compensation.
Next, contact RcMoment.com immediately with your order number and a full description / pictures of the broken item issue. We will contact the courier company from our end.
Once the courier company confirms that the case is valid, they will compensate RcMoment.com, and we will pass on this compensation to you. The compensation varies from case to case and is different for each delivery company. In some cases you will need to pay to post the broken item back to RcMoment.com in order for us to send out a new piece.

5. What should I do if my products go broken after a period of use?
If you encounter quality issues within the warranty period, you can ask for us. Every product has a specific warranty period. If it is not stated in the product listing, please contact our consumer service team.

In this case, please kindly provide us with proof as below:
The photos of original RcMoment.com package with front and back sides
The photos or video of the defective item(s)
The photos, video or screenshot showing the malfunction of the defective item(s)

We will usually offer you a refund or send a replacement as soon as the problem is confirmed.
Sometimes you may need to ship the defective item back to us for free repair service or a new replacement. Customer should cover the return shipping fee, and RcMoment.com is responsible for the shipping costs of arranging reshipment by air mail.